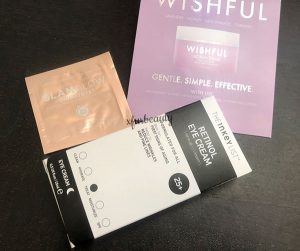 My order arrived today!! I didn't think I would keep The INKEY List Retinol Eye Cream in my skin care routine, but I guess I am (for now)! 😁 Why not?!! I've been using it for ages now. Well, it feels like ages. It's like a staple in my routine by now. So I'm officially on my third tube of this eye cream. Hopefully I'll see results this time. haha. HOPEFULLY!! Along with my order, I received some samples too. They are GLAMGLOW BRIGHTEYES Illuminating Anti-Fatigue Eye Cream and Wishful Honey Balm Jelly Moisturizer. I'll get to trying them out some time or whenever I remember to, lol. Now back to the retinol eye cream! Let's unbox it! 🙂
So I did a review on this eye cream not too long ago. If you missed it, click right here. I also did a review on another eye cream from the same brand too. It's THE INKEY List Caffeine Eye Cream <<< CLICK!!
Here's my new retinol eye cream taken out of the box. It looks the same like it did before. No changes in packaging from what I've seen. Just the plain ol' black and white coloring and design. So about the packaging, it looks worn out for some reason. It feels flimsy and rather cheap. I've noticed this about this brand. It's not the most aesthetically pleasing box and packaging from a brand. But that's OK. I guess. ha.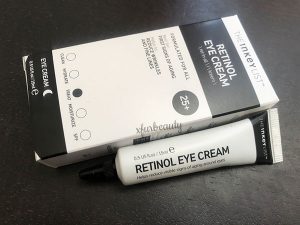 This is what the retinol eye cream tube looks like. It's not a sealed product. Just twist open the cap and use immediately. I wish it was sealed…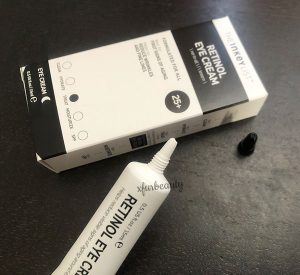 Here's a swatch of the product. It's a white-yellowish cream. This is my first time dispensing my brand new retinol eye cream. Very, very exciting! Even though I know exactly what to expect! LOL. It's just oh so fresh and brand new!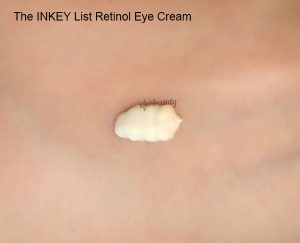 Now…inside of the box. It explains the different kinds of eye creams they have. I've only used the retinol eye cream and caffeine eye cream. Maybe one day I'll try the brighten-i eye cream. I've seen it, but I haven't felt the need to try it out yet. I'm a little obsessed with kbeauty eye creams at the moment. They seem to work better, and they're more affordable long term. They last so much longer too. I like them a lot more. And from the results (which is very little) I've achieved with the retinol eye cream and caffeine eye cream, I'm not sure what to think of the brighten-i eye cream. It's whatever at the moment, lol. Maybe some time in the near future if I feel like it, I'll pick one up.
It goes on to explain how long to see results too. Um, yeah, after two tubes and going on the third. I'm pretty sure I'm supposed to see results by now. haha. And I only use a tiny pea-size for both eyes. Hmmm! It's been WAYYYYY OVER 6 weeks. 😮‍💨 Well! Let's see if the third one is a charm! hehe! ✨ Also, I haven't had any irritation or sensitivity to this product. Yay? Yes, yay. 🙃 But it is a slow release formula to help avoid irritation. FYI, this retinol eye cream is 3% vitalease stabilized retinol compound. That doesn't mean 3% retinol. It's only 0.09% retinol. It's a low concentration retinol product. That may be the reason why I'm not seeing much results.
BUT! I have hope! 🤞🏻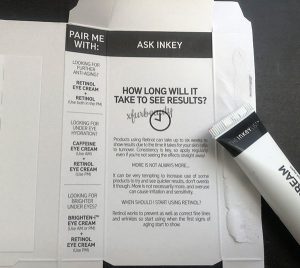 So I'm looking forward to gorgeous eyes in the next upcoming weeks or months!!! Let's see what this retinol eye cream can do this time around. 😊 An updated review coming up soon!
The INKEY List Retinol Eye Cream
The INKEY List Caffeine Eye Cream
Categories:
Tags:

Aging Skin, Anti-Aging, Cruelty-Free, Dark Circles, Dark Under Eye Circles, Experience, Eye Cream, Fine Lines, Lifestyle, Product Reviews, Retinol, Retinol Eye Cream, Review, Skin Care, Skin Care Products, Skincare, The INKEY, The INKEY List, The INKEY Retinol Eye Cream, The INKEY Skin Care, Vegan, Wrinkles