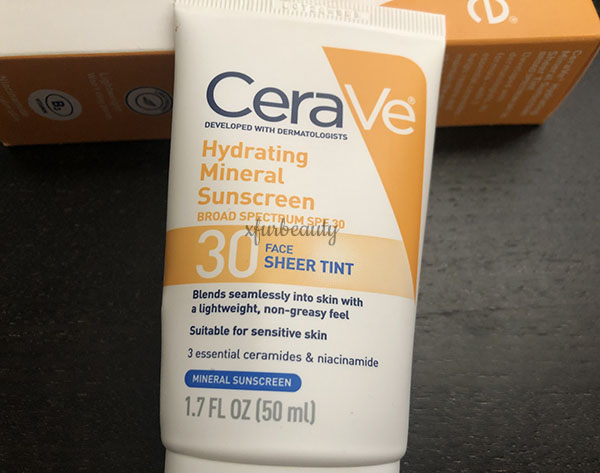 Last week, I didn't use any acne treatments all-over. I paid the price for it. My skin went from dry and crusty to extremely oily. I developed breakouts from it. Once I stopped using taz or tret, my skin started to get better/heal. I'm thinking about quitting those products and just sticking to benzoyl peroxide (pm) and sunscreen (am) for now. I went back to using benzoyl peroxide all-over at the beginning of this week. I spot treated most of the week. On the last day, I started using benzoyl peroxide all-over. I thought I could spot treat most of the week only. I was wrong. I really need to apply benzoyl peroxide all-over for the full effect. When using benzoyl peroxide, I have less breakouts, skin is less oily, and my skin just looks overall better. I noticed improvements in my skin after the first all-over application! My skin didn't dry out either. It just soaked up the excess oils and killed the bacteria. Yayyyyyyy! I'm still not using a moisturizer. My skin seems to not need it. Also, I'm not using salicylic acid anymore. It's not working for me. It made my skin worse at the end. It could just be the product I was using too (Paula's Choice 2% BHA Liquid Exfoliant). It leaves an oily residue behind while absorbing excess sebum all at once. It's weird. I'm going to try my best to move on from it, haha. Let's see how this goes, lol. Yeah, I'm pretty sure I'm done with it. 🤔 Pretty sure…
I stopped using CeraVe Hydrating Mineral Sunscreen SPF 30 Face Sheer Tint and Trader Joe's Daily Facial Sunscreen Broad Spectrum SPF 40 this week too. I tried using La Roche-Posay Anthelios Body & Face Mineral Sunscreen Gentle Lotion SPF 50. I thought it was breaking me out at one point or many points, lol. Go here to check out my previous thoughts on it. I tried using this sunscreen most of the week. It didn't cause breakouts like I thought it did. It must've been the CeraVe sunscreen. Darn it, I've been using it for so long and not realizing it was clogging my pores. I've officially stopped using it. There goes another sunscreen that doesn't work. As for La Roche-Posay Anthelios Body & Face Mineral Sunscreen Gentle Lotion SPF 50, it worked OK for the first few applications then my skin became extremely dry. I could see dry patches on my skin. It accentuated so much dry skin that I had to stop using it every day. It's not going to work if it makes my skin look like shit. I need a more moisturizing sunscreen that doesn't break me out. I tried using Altruist Sunscreen SPF 50 again, haha! I feel like I'm never going to let this sunscreen go. It worked well the first day. After using it again for the second time, my skin started to feel clogged. It made my skin look super shiny and more oily during the day. Felt sticky on the skin. Whatever, maybe this is the last time. My experience with it lasted for 2 days this time. Good to know that it doesn't work (again, lol).
After 1 month, my skin is almost clear. I only have a few stubborn areas of my face with pimples. It's mostly my chin and mouth area. Probably hormonal too. I ended up with at least 3 nodules right for my period. Ugh, they took forever to go away and left dark acne marks behind. I'm not using anything to treat the pigmentation. I just don't want to use any new product right now and ruin my skin. So, it's just sunscreen (not sure what works yet 😭😭😭), face wash, and benzoyl peroxide. Oh, and that vitamin c serum which has helped brighten my under eyes. It's so silky smooth! By the looks of my skin condition, I'm pretty sure the less products I use, the better my skin gets. I just need to find a new sunscreen. Something that's lightweight, non-greasy, doesn't clog my pores, and dries quickly into the skin. Looking back at all of the sunscreens I've used, the only one that worked for me was Neutrogena Visibly Even Daily Moisturizer with SPF 30. It's not even a sunscreen product. It's a moisturizer with SPF. By the way, it's been discontinued for some time now. I only have one bottle left that hasn't expired yet. I better get going and use it up real soon before it does.
What's happening? Check out the links below!
Restarting Tret & My First Week Experience
My Week 2 Results With Tret. Changes I've Made.
Categories:
Tags:

1 Month Experience, 1 Month Results, 2% BHA Liquid, Acne, Acne Prone Skin, Acne Skin, Altruist, Altruist Sunscreen, Altruist Sunscreen SPF 50, Beauty, BHA Liquid, Broad Spectrum, CeraVe, CeraVe Hydrating Mineral Sunscreen SPF 30 Face Sheer Tint, Daily Facial Sunscreen, Experience, Facial Sunscreen, La Roche Posay, La Roche-Posay Anthelios Body & Face Mineral Sunscreen Gentle Lotion SPF 50, Lifestyle, Mineral Sunscreen, Neutrogena, Neutrogena Visibly Even Daily Moisturizer with SPF 30, Paula's Choice 2% BHA Liquid Exfoliant, Review, Sheer Tint, Skin Care, Skincare, SPF, SPF 30, SPF 40, SPF 50, Sunblock, Sunscreen, Tinted Mineral Sunscreen, Trader Joe's Daily Facial Sunscreen Broad Spectrum SPF 40, Visibly Even