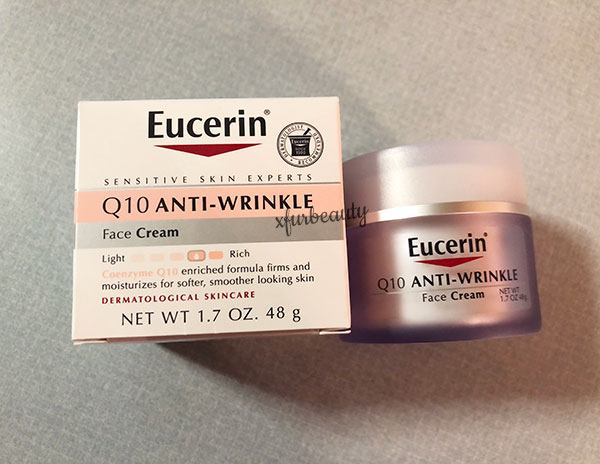 I have a new moisturizer! 😃 It's a product I have used before many moons ago, but I decided to give it another chance. My skin was feeling a little dry and needed a good moisturizer. My lightweight moisturizers weren't doing it for my skin. So, with this moisturizer, it's been YEARS since I've used it. Maybe it'll be different this time around. I don't know. We'll see! So the moisturizer or face cream that I have is Eucerin Q10 Anti-Wrinkle Face Cream. Now let's learn more about it first…
So this face cream is formulated with antioxidants like vitamin e, coenzyme q10, beta-carotene to help reduce the look of fine lines and wrinkles. It says in as little as 5 weeks, it reduces the look of fine lines and wrinkles for softer, smoother looking skin. This cream is for sensitive skin, fragrance-free, alcohol-free, and non-comedogenic.
The product says it's non-comedogenic. I don't recall this cream breaking me out in the past. I think that's why I thought I would give it another go. But let's take a look at the ingredients. Here are the ingredients in this product!
Water, glycerin, ethylhexyl cocoate, hydrogenated coco-glycerides, stearyl alcohol, butylene glycol, cetyl alcohol, caprylic/capric triglyceride, butyrospermum parkii (shea) butter, glyceryl stearate citrate, octyldodecanol, tocopheryl acetate, ubiquinone, biotin, biosaccharide gum-1, sodium ascorbyl phosphate, zea mays (corn) oil, beta-carotene, tocopherol, 1,2-hexanediol, carbomer, sodium hydroxide, trisodium EDTA, dehydroacetic acid, phenoxyethanol.
It contains some ingredients that I usually can't tolerate, such as caprylic/capric triglyceride, shea butter, and corn oil, but I decided to just give it a try anyways. I really needed a better moisturizer for my face. Once again, I can't recall this cream breaking me out in the past. I can just hope that it's the same as before. Makes me wonder why I stopped using it in the first place. There's only one way to find out if it works or not and that is to try it!
The face cream comes in a 1.7 oz. jar (48 g). It's a tiny jar. It comes sealed. YAY!! Ya know how much I love sealed skin care products. It's fresh. It's new. And I know I'm getting a brand new product!
This is what the face cream looks like when the seal is removed. The product is yellow in color. It appears to be rich, thick, creamy, and buttery. It's much, much different than what I'm used to or what I've been using on a daily basis. I really hope it doesn't clog my pores. ha.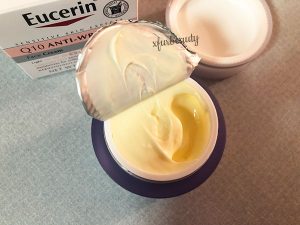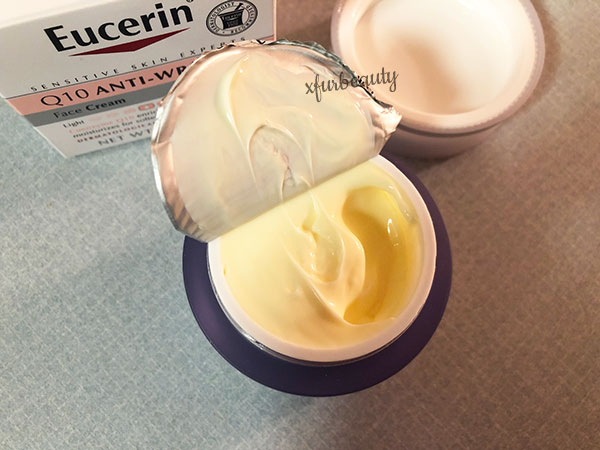 My First Impression
This face cream is rich, thick, and creamy. It has a buttery texture to it. It feels much heavier and more dense than what I'm used to. I was very skeptical yet interested in this face cream all at the same time. I knew I needed something much richer, more moisturizing for my face. My lightweight moisturizers were just not cutting it for long-term. Yes, oily (and acne-prone) skin needs a good moisturizer too. It's just really difficult to find one that gives it the moisture that it needs without causing breakouts and making it appear more oily. So, I loved how rich and thick the cream is. Also, I didn't need to use a lot of product either to cover my whole face and neck area either. Just a little bit of product is needed and pat it into the skin. The face cream blends and absorbs well into the skin. It didn't take much effort to get it to sink into the skin. Awesome! It leaves my skin highly, deeply moisturized. I just love it. It feels very nice on the skin. Also, it makes a really good eye cream. It leaves my eye area deeply moisturized. It's more moisturizing compared to the eye creams that I have. So, I definitely fell in love with this face cream and how it made my skin feel right on the spot.
I've only used this face cream for 3 days. I used it in the morning and at night. I was going to use it only at night as my night cream since it felt heavier on the face, but I decided to use it in the morning too. My sunscreen tends to dry my face out. It absorbs all of the moisture from my skin. And ta-da! It worked in the morning wonderfully. My skin felt more soft, velvety, smooth, and just super moisturized. Works great underneath my sunscreen. Now my skin doesn't feel extra dry anymore. Yay! My Cosrx Ultimate Nourishing Rice Overnight Spa Mask couldn't compete with this type of hydration. My skin actually feels moisturized and was left moisturized throughout the day with Eucerin Q10 Anti-Wrinkle Face Cream. I mean, it does contain heavier, richer ingredients in it. It's a heavier cream than what I usually use, so I'm not too surprised. But, with the Eucerin Q10 Anti-Wrinkle Face Cream, the product doesn't feel heavy as I thought it would. It feels lightweight on the skin. All I needed was a thin layer of the product to provide moisture to my skin.
I didn't have any issues with this product within 3 days of use. The product didn't ball up. It sat on my skin well and stayed in place. Absorbs into the skin well (as I mentioned earlier). It didn't make my face look oily. Doesn't leave a greasy film behind or feel sticky on my skin either. Not bad at all. Now let's get into the acne. As for acne, it's only been 3 days, but I haven't experienced any breakouts from this face cream. I've only experienced a more hydrated, moisturized complexion. My skin looks softer, smoother, and just healthier looking overall. This is exactly what my skin needed when it lacked moisture! So it looks like it's working for me so far. Wow, maybe I've found a face cream that works on my stubborn, annoying, breakout-prone skin. Some of the ingredients in this product are usually not compatible with my skin type. I usually get a ton of clog pores from them. But, you know, I don't want to jinx myself. This face cream has been amazing within the first 3 days. I hope it works out in the end because I'm loving it sooooo farrr!! I hope it works! 🙂
New update within a few weeks. 👍🏻🤞🏻
Here are some old posts on moisturizers that I use. I'm still using some of the products. I'll make an update soon enough. But enjoy my posts. I hope they're helpful. 😊
Finding the Perfect Moisturizer & What I Use!
Categories:
Tags:

Acne Prone Skin, Acne Skin, Anti-Agin, Anti-Aging, Anti-Wrinkle, Antioxidant, Dry Skin, Eucerin, Eucerin Q10 Anti-Wrinkle Face Cream, Experience, Face Cream, Face Moisturizer, First Impression, Lifestyle, Moisturizer, Non-Comedogenic, Oily Skin, Q10, Review, Sensitive Skin, Shea Butter, Wrinkles