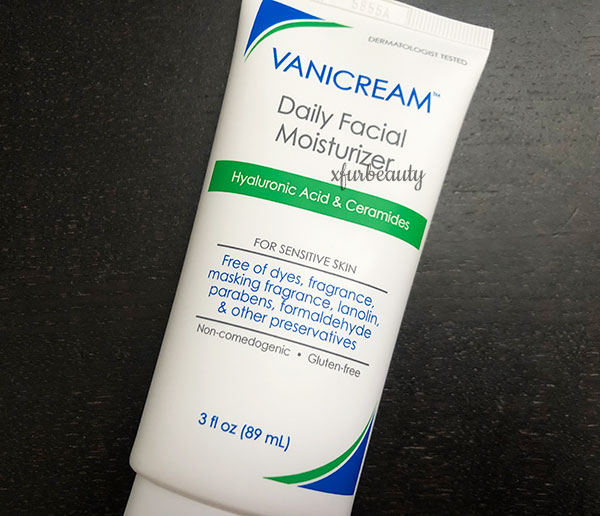 I remember picking this moisturizer up and hoping that it'll become my main moisturizer. The ingredients look sooo good, the price was also not too bad, and it's accessible where I live. All points lined up and was perfect. Here's a quick snapshot of the moisturizer: It's a rich, lightweight lotion that provides effective moisturization for day or night. It's formulated with 5 key ceramides and hyaluronic acid to hydrate and retain skin's moisture. It leaves the skin feeling soft and deeply moisturized while still being lightweight and suitable to wear under makeup. It's free of dyes, fragrance, masking fragrance, lanolin, parabens, formaldehyde, and other preservatives. It's non-comedogenic and gluten-free. That sounds like a dream come true moisturizer. So it's been 1 month using Vanicream Daily Facial Moisturizer for Sensitive Skin. Here are my thoughts and experience with this moisturizer.
Texture & Application
This moisturizer is a lotion. It's not a cream. The texture of the product is soft and smooth. It's on the thicker side. The moisturizer glides on the skin smoothly without tugging at the skin. It takes a little bit of time to blend the lotion into the skin, but the moisturizer eventually blends into the skin. It vanishes into the skin nicely. After applying the moisturizer, the finish of the moisturizer is sticky. It doesn't feel like it fully absorbs into the skin. It sits on top of the skin, which can feel uncomfortable and bothersome. I didn't like the stickiness of the lotion. It made my skin feel unclean and just plain annoying. As someone with oily skin, I thought the lotion was heavy and thick on the skin. I wish it was more lightweight and absorbed into the skin better. Even when my skin was feeling a little more dry, I still thought the product was heavy and thick on the skin. The product claims to be lightweight, but it's not. This moisturizer worked pretty well underneath my makeup. My makeup went on better. Much smoother. It just glides across my facial skin much more easily. It made my skin appear softer, smoother, and flawless.
Heals & Protects
This moisturizer is very good at healing and protecting the skin. It contains ceramides, hyaluronic acid, and squalane. I loved the ingredients in this product. The ingredients were the perfect combination for my skin and helped to heal my skin from my acne treatments/chemical exfoliants. It help to strengthen my moisture barrier when it's damaged or experiencing a burning sensation. Out of all of the moisturizers that I have used to heal my skin, Vanicream Daily Moisturizer for Sensitive Skin was the only one that worked so far (after trying a bunch of moisturizing skin care products!!). My skin didn't feel dry, red, or irritated after using it. On occasion, if my moisture barrier is damaged, it did burn upon application, but it wasn't too bad. This product was the least irritating as of yet. It sat uncomfortably on my skin after it settled down. With this moisturizer, my moisture barrier felt healthy after each use. On my skin, it was extremely moisturizing. I was so happy that I had found a moisturizer that improved my skin over time.
Clogs pores??
I didn't notice clogged pores at first, but I noticed clogged pores after using it for a month. Maybe they were there before and I was in denial, lol. I really wanted this moisturizer to work since it helped to moisturize my skin, not just lightly hydrate it. It did an amazing job at protecting my skin from dryness and irritation. But, unfortunately, the clogged pores became noticeable as time went on. I developed blackheads and tons of sebaceous filaments. Some of the blemishes were not noticeable until I stopped using the moisturizer. My skin started to break out in acne. After the acne appeared, they started to clear up rapidly. My skin became less oily and clogged. Blackheads diminished on my nose. So, this moisturizer ended up clogging my pores in the long run. Shocking? Not so much. I haven't found a moisturizer that moisturizes my skin in years. And I still haven't found one that works well on my skin. *sigh* Back to the drawing board…maybe…haha.
Final Thoughts
Another moisturizer down, I guess, lol. I think I'm done searching for a moisturizer for my face right now. It's getting really annoying using a moisturizer for a month and experiencing negative side effects afterwards thinking that it was working. 😮‍💨 Even though it didn't work on my face, I'm not going to remove it from my routine. I like the ingredients in this product (ceramides and hyaluronic acid), and it helps to protect and heal my skin. It works very well as a moisturizer at an affordable price. I'm using it as an eye cream and neck/chest cream instead. It works even better than my eye creams that are eye creams. Also, I'm keeping it around to use on my face (yup!) when I'm treating my skin with my acne treatment/chemical exfoliants, which isn't often. I just can't use it daily as a facial moisturizer, which is kinda funny since it's called a 'Daily Facial Moisturizer'. In my opinion, I don't think this moisturizer is entirely bad. I mean, I'm still using it. I like the product, but it's a bummer that it didn't work on my face as a daily facial moisturizer.
If you missed out on my acne journey, don't forget to check them out!!
My Acne Journey: 3 Weeks Results!
My Acne Journey: 4 Weeks Results!
My Acne Journey: 6 Weeks Results…
My Acne Journey: 7 Weeks Results
My Acne Journey: 2 Months + 1 Week Results!
My Acne Journey: 2 Months + 2 Weeks!
My Acne Journey: 2 Months + 3 Weeks Results!
My Acne Journey: 3 Months + 1 Week Results
My Acne Journey: 3 Months + 2 Weeks Results
Categories:
Tags:

Acne, Acne Skin, Anti-Aging, Beauty, Blackheads, Ceramide, Ceramides, Clogged Pores, Daily Facial Moisturizer, Daily Moisturizer, Experience, Facial Moisturizer, Fragrance-Free, Gluten-Free, Hyaluronic Acid, Lifestyle, Lotion, Moisturizer, Moisturizing, Non-Comedogenic, Oily Skin, Paraben-Free, Review, Sensitive Skin, Skin Care, Skin Care Routine, Skincare, Squalane, Vanicream, Vanicream Daily Facial Moisturizer, Vanicream Daily Moisturizer for Sensitive Skin, Wrinkles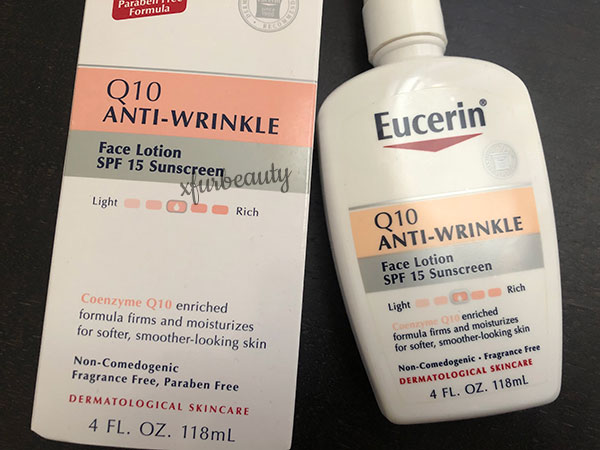 So I had the chance to try out another sunscreen in the past week! It's Eucerin Q10 Anti-Wrinkle Face Lotion SPF 15 Sunscreen! After having so much success with Eucerin Q10 Anti-Wrinkle Face Cream, I thought I would give the Q10 Anti-Wrinkle sunscreen a try. I was searching for a sunscreen that was a little bit more moisturizing than what I am using. Mineral sunscreens tend to dry out my skin so much! I just wanted a sunscreen that moisturizes and protects my skin. This sunscreen contains chemical filters, such as Octinoxate (7.5%), Octisalate (3.0%), and Oxybenzone (3.0%). I do pretty well with chemical filters. No dryness, itchiness, or any irritation of any kind besides it burning my eyes if it gets in. 😢 Yeah, I know, this sunscreen only contains SPF 15, but hey, let's try it anyways to see if it works or not. Who knows what may happen! It might even work!
Note: Has anyone noticed that Neutrogena Visibly Even Daily Moisturizer SPF 30 just vanished? It's not like I'm using it anymore. I still have a couple of tubes of the Visibly Even Daily Moisturizer SPF 30 left, and I'm currently still using Canmake Mermaid Skin Gel UV SPF 50+ PA++++, which has a higher SPF and a good PA. It's just that, it's been out of stock for a while that's all. haha! 🤔 Now back to Eucerin Q10 Anti-Wrinkle Face Lotion SPF 15 Sunscreen!
About this sunscreen…
It visibly reduces the look of fine lines and wrinkles in as little as 5 weeks! It's formulated with coenzyme Q10 and vitamin E. It moisturizes the skin for softer, smoother skin while protecting the skin with SPF 15. It's fragrance-free. Non-comedogenic. Great for sensitive skin!
The ingredients isn't too bad. It does appear to be moisturizing just by taking a glance at the ingredients. My skin can't handle skin care products that are super moisturizing. If it does, I was just lucky for it to work (not clog my pores). This sunscreen does contain ingredients I'm wary about, but let's see what happens! Let's move on to my experience! This is what happened! 👇🏻
Here's my experience after using it!
This sunscreen comes in a 4 fl. oz. pump bottle that's easy to use. I only needed a single pump of product for the whole face. It felt soothing and moisturizing yet lightweight on the skin all at once. The most moisturizing lightweight moisturizer that I have used in a while. It's even more moisturizing than the Eucerin Q10 Anti-Wrinkle Face Cream. It just feels so soft and smoothing on the skin. It rubs into the skin nicely too. The product doesn't tug at the skin. It glides across the skin easily with little effort. Once I was done applying the lotion, my skin felt so moisturized and prepped for makeup. It helped tame any flaky skin I had and made my skin look ultra silky and smooth. It was unbelievable. I loved the results I saw using this sunscreen. And I wanted the results to last forever! I was hoping that it worked for me long term at this point. 🙂
The sunscreen stayed on my skin and left my skin feeling moisturized throughout the day. I didn't have any issues with it. It made my skin appear softer. My pores looked better too. It felt like I applied a makeup primer to my facial skin without the excess silicone feeling that I get from wearing a makeup primer. This product does contain silicone in it, but it doesn't feel like it. I liked the way it felt on my skin. This product also contains alcohol, but it didn't dry my skin out in any way. Honestly, I didn't have a problem with it. The sunscreen worked for me with the alcohol in it. I didn't have any sort of redness or irritation. Just amazingly moisturized skin that lasted the whole day! Seems to work great if you have sensitive skin. It didn't burn my eyes either! Awesome!
So am I still using this sunscreen??
Hmmm! The answer is no. I was able to use this sunscreen for less than a week. I started noticing clogged pores mid-week. I noticed hard sebum within my pores and new breakouts in random places. I stopped using the sunscreen because of that. I knew it was the sunscreen that caused the breakouts. It was just too good to be true. The sunscreen also contains Glyceryl Stearte SE, Caprylic-Capric-Triglyceride, Cetyl Alcohol, Cetearyl Alcohol. I think a combination of these ingredients just made me breakout in acne. I had to give it up (on my face). I may continue to use it on other parts of my body, since I'm madly in love with the texture and consistency of the product. It just feels so moisturizing and healing at the same time while providing SPF 15. Once again, yes, it's low, but it's something. Plus I already have a higher SPF for my facial skin. I'm after the moisture! I love it! So overall, for the face, it didn't work out. For other parts of my skin, yes. And if you don't have acne-prone skin, it's a pretty good product. Too bad I'm stuck with blemishes. Well, preventing them anyways. haha. Moving on…
If you missed out on my Canmake Mermaid Skin Gel UV SPF 50+ PA++++ updates, here they are!
Review: Canmake Mermaid Skin Gel UV SPF 50+ PA++++
An Update on Canmake Mermaid Skin Gel UV SPF 50+ PA++++!
Trying Out Canmake Mermaid Skin Gel UV SPF 50+ PA++++ White For The First Time! Here's My First Impression!
Update on Canmake Mermaid Skin Gel UV SPF 50+ PA++++! Which One Is Better? Clear or White??
Categories:
Tags:

Acne, Acne Skin, Ant-Wrinkle, Anti-Aging, Antioxidant, Beauty, Eucerin, Eucerin Q10 Anti-Wrinkle Face Lotion SPF 15 Sunscreen, Experience, Fragrance-Free, Lifestyle, Non-Comedogenic, Paraben-Free, Q10, Review, Skin Care, Skin Care Routine, Skincare, Sunblock, Sunscreen, Wrinkles