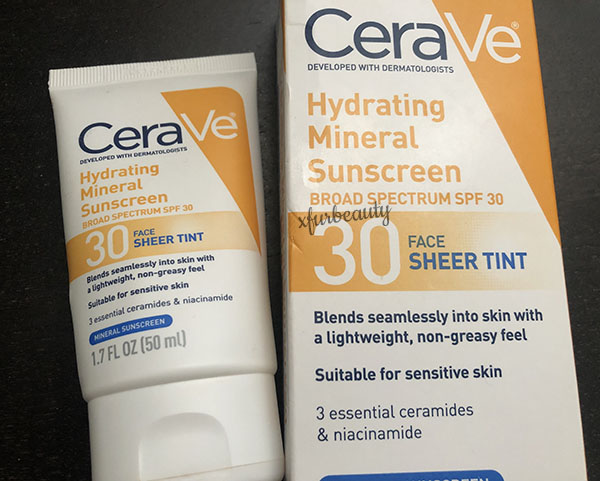 Here are my thoughts and experience on CeraVe Hydrating Mineral Sunscreen SPF 30 Face Sheer Tint! Did it work this time? Read on to find out!
My Updated Thoughts on CeraVe Hydrating Mineral Sunscreen SPF 30 Face Sheer Tint!
Why I chose this product?
I had a tube of this product that I needed to finish. It was just sitting there, and I didn't want to waste it. So I thought I would give it another try again to see if it'll work for me or not this time. Also, I was really fed up with my main mineral sunscreen leaving a white cast on my skin (even if it's subtle, there's still a noticeable white cast). It gets annoying when people start to stare, lol. I just couldn't do it anymore. I needed a tinted mineral sunscreen that blends into the skin and hides the white cast. I've been guilty of walking around with a slight white cast over the summer. 😂 At least my skin was protected. But, it's time for a change. And that is, no white cast, haha.
My first time experience with CeraVe Hydrating Mineral Sunscreen SPF 30 Sheer Tint was not good. It didn't go well, and it just didn't work for me. I didn't like it at all. I stopped using it immediately when I noticed that it made my skin appear more greasy (felt moisturizing on the skin though!), left my skin looking orange, and provided no coverage. I was used to a little bit of coverage from makeup during that time. Hmmm! Let's get into what happened to my skin while using this product again! If you missed out on my previous thoughts on this product, go here! 👈🏻
It's a moisturizing mineral sunscreen.
Most mineral sunscreens I've tried are drying. This one is not. It feels very moisturizing on the skin! I love that it contains 3 ceramides. My skin seems to adore ceramides in skin care products. I noticed a huge difference in how hydrated my skin is after use. It also doesn't just moisturize, but it helps to repair and protect my skin from dryness. I enjoyed reapplying this sunscreen each time because it helps to replenish moisture in my skin throughout the day!
Product Shade & Coverage.
I thought the shade of the product was a little too dark on my skin at first, but it seems to blend and vanish into the skin. It's a little orangey, but it's not too noticeable. I started off using this sunscreen as a makeup product and just blending it in to hide the white cast from my main sunscreen. But, that eventually led me to using it as a sunscreen + makeup. The product doesn't provide any coverage at all. I could still see my freckles (not a bad thing), under eye circles (if there's any), and a few acne marks (which are fading). I don't think the shade of this product is too bad because I received compliments on my skin while using it. It makes me look like I'm not wearing any makeup (well, it's not truly makeup, it's just tinted) at all while giving my skin a natural glow. It doesn't look cakey or heavy on the skin. Like, damn! My skin looks pretty good wearing it! My skin is currently clear, and it worked out just fine!
Breakouts? Clogged pores?
I didn't get any breakouts from this product this time. I wonder what happened the first time. 🤔
Brighter Skin.
I didn't expect my skin to even out while using this tinted mineral sunscreen, but it did. I noticed a more even complexion with some acne marks fading. This product contains niacinamide. I'm surprised that it worked that well on my skin. Who needs a brightening serum when a sunscreen product does it as well. My skin just keeps getting brighter and brighter. I started noticing the brightening effect after the third day.
Final Thoughts
I'm pretty shocked that this CeraVe product worked on my skin. I have yet found a CeraVe product that delivered results. This one did. Even though it doesn't provide much coverage, it's still a good product to use. It's a tinted mineral sunscreen that blends easily and smoothly into the skin. I don't have any issues with the application process with this product. I love that it's SPF 30 too. Wish it was SPF 50! That would be awesome! I didn't get any breakouts or clogged pores from this product. Another amazing thing that happened! I hope I don't jinx it and start breaking out! Well, as for now, no breakouts! Also, it helped to brighten my skin. It must be the niacinamide. I'm not a huge fan of niacinamide serums or products, but this one that contains niacinamide worked on my skin while moisturizing my skin. My skin looked brighter. So far, I'm loving this product. I'm running low and need to get another tube soon! It might even become a staple in my routine.
Clear Skin & Trying Out CeraVe Hydrating Mineral Face Sheer Tint!
Check out another tinted mineral sunscreen I tried recently ~ Australian Gold Botanical SPF 50 Tinted Face Sunscreen Lotion (Fair-Light)
Categories:
Tags:

Acne, Acne Skin, Anti-Aging, Beauty, Ceramides, CeraVe, CeraVe Hydrating Mineral Sunscreen SPF 30 Face Sheer Tint, Experience, Hydrating, Lifestyle, Mineral Sunscreen, Niacinamide, Review, Sheer Tint, Skin Care, Skincare, Sunblock, Sunscreen, Wrinkles