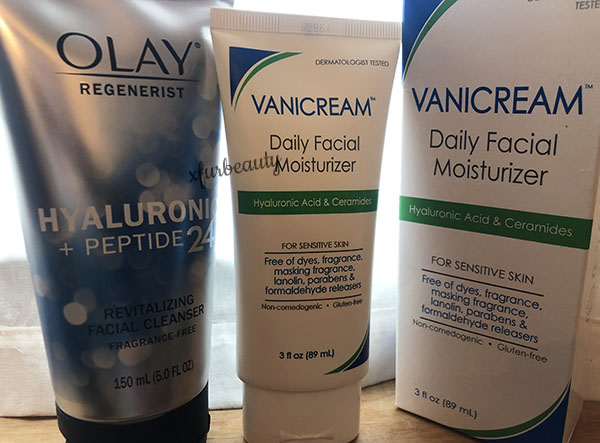 Hello everyone! I picked up some skin care products over the weekend. My skin is feeling extremely dry and sensitive to touch. Sometimes it would burn too. So I've been thinking about adding a new moisturizer to my skin care routine. I thought about it and I thought about it. I kept on thinking about it until I finally pulled the plug. My skin couldn't take it anymore. It's dry, red, and itchy. What to do?? I picked up a new moisturizer. Before I talk about my new moisturizer, the reason why I went out and bought a new moisturizer is because the moisturizers that I have weren't doing much for my skin. It feels like they only moisturize my skin when they're applied to my skin. The moisture doesn't last long. Just for the moment and a couple hours after application. After that, my skin is back to being dry and itchy. Also, my skin still feels dry (even drier) and uncomfortable the following morning using these moisturizers. I needed a moisturizer that actually, truly moisturizes the skin but also repairs and heals the skin too. A moisturizer that keeps my skin moisturized throughout the day. I've been having issues with dryness and skin irritation and nothing has worked to prevent skin dryness and irritation. It feels like I'm wasting my time and money on products that just don't work, but I continue to use them because I can't find anything better that works.
The moisturizers I'm using are…
Cosrx Oil-Free Ultra-Moisturizing Lotion (with Birch Sap)
Cosrx Advanced Snail 96 Mucin Power Essence
Eucerin Q10 Anti-Wrinkle Face Cream
Purito Centella Green Level Buffet Serum
Some of these products are a staple in my routine like the Purito Centella Green Level Buffet Serum, Benton Fermentation Essence, and Eucerin Q10 Anti-Wrinkle Face Cream. I like them, but they're not as moisturizing as I want them to be or as they should be. They each have their own individual purpose in my routine. I like them for different reasons. For example, the Purito serum helps to calm redness and soothes the skin. This is the first serum I use on my face after it's been cleaned and washed. It feels very soothing and nice on the skin. Benton is a more watery essence. It has this ultra silky texture to it that I adore so much. It contains ceramide np and ferment ingredients. Absolutely love!! Lastly, Eucerin is a heavier, richer cream that semi-moisturizes my skin. Even though it helps to moisturize my skin, it doesn't help to prevent redness or itchy skin. That's something I've been dealing with for a while. Also, it's so weird how sometimes it makes me breakout and sometimes it doesn't. I'm already back to using it on my face without any clogged pores, lol.
My new moisturizer!! 🙂
So I did the unthinkable. I picked up a product that I thought I would never touch again after having a terrible experience with it. I've been searching high and low for a moisturizer that's at least affordable and works to moisturize my skin. I'm on a budget and can't spend too much money right now. So I decided to try it again after researching for a moisturizer that I think could work or at least try it and see what happens. Whatever. I needed a moisturizer ASAP! My skin is in need of moisture! Since my skin has changed so much (compared to last year), I thought maybe it could work this time around. I'm giving it a second chance after that gruel, unpleasant experience with it. Guess what product it is?? Yup, it's Vanicream Daily Facial Moisturizer for Sensitive Skin. I developed very bad acne the last time I used it. It was one of the many products that I tried last year that destroyed my skin within a week of use. I was traumatized and didn't take it lightly. I was p*ssed. But it's a new year and a lot of things have changed since. My skin has been behaving much better after I started eating meat again. So long those vegan years! 👋🏻 The last time I purchased Vanicream, I purchased it off of Amazon. I don't recall the product being sealed. The Vanicream bottle I have right now, I purchased it from my local drugstore. The product is sealed at the opening. This is why I don't buy majority of my skin care products off of Amazon anymore. It's difficult to know what you're going to get. New, used, old? Who knows! Now let's see how this moisturizer works this time! 😀
Note: I'm thinking about removing some of the moisturizers listed if my new moisturizer works. I'm crossing my fingers that it will work because that's way too many moisturizers for me, haha. Wish me luck!
New face wash…
Another product that I picked up is a facial cleanser. It's the Olay Regenerist Hyaluronic + Peptide 24 Revitalizing Facial Cleanser. My current face wash contains tea tree oil, and it sometimes stings after my skin peels from my acne cream. It isn't too bad, but I thought I would keep a creamy, more moisturizing face wash around just in case. This cleanser is formulated with hyaluronic acid, niacinamide, and peptides. I've used other facial cleansers from Olay before with positive experiences…
Olay Regenerist Collagen Peptide 24 Cream Cleanser
Olay Regenerist Vitamin C Peptide 24 Brightening Facial Cleanser
I hope this facial cleanser goes well. 👍🏻
Stay tuned for my thoughts on these products in my next acne journey update! Coming up soon!
If you missed out on my acne journey, don't forget to catch up on it!
My Acne Journey: 3 Weeks Results!
My Acne Journey: 4 Weeks Results!
My Acne Journey: 6 Weeks Results…
My Acne Journey: 7 Weeks Results
My Acne Journey: 2 Months + 1 Week Results!
My Acne Journey: 2 Months + 2 Weeks!
Categories:
Tags:

Acne, Acne Prone Skin, Acne Skin, Anti-Aging, Beauty, Cream Cleanser, Experience, Face Wash, Facial Cleanser, Hyaluronic Acid, Oily Skin, Olay, Olay Regenerist, Olay Regenerist Hyaluronic + Peptide 24 Revitalizing Facial Cleanser, Peptide, Review, Sensitive Skin, Skin Care, Skin Care Haul, Skincare, Vanicream Daily Facial Moisturizer, Vanicream Daily Facial Moisturizer for Sensitive Skin, Vanicream Lotion, Vanicream Moisturizer, Wrinkles