My review on the Burt's Bees Cleansing Oil Balm. 🙂
About Burt's Bees Cleansing Oil Balm:
With Antioxidant-Rich Green Tea
Melts away makeup and detoxifies to reveal supple, glowing skin
Ingredients from nature
No animal testing
Responsible sourcing
Recyclable
Review:
This cleansing balm comes in a 3 oz jar. The balm is similar to the coloring of the packaging. A greenish hue (see photo below). It has an herbal scent to it. The balm is soft to touch. I thought it would melt fully in my palm, but it didn't. There were tiny little chunks where I had to rub them a little more to melt. This one is on the balmy and oily side (it says cleansing oil balm on the container). It removes my foundation, eyeliner, eyeshadow, but I had some trouble removing my mascara with this cleansing balm, which is surprising. It doesn't melt the mascara right off. That was disappointing because mascara is the most difficult makeup to remove (to me). I love cleansing balms, but this one isn't for me. I won't purchase it again.
This is what it looks like. Mine had bubbles in it that I couldn't resist poking at. They left holes behind, lol. I was expecting more of a softer appearance to the balm.
Categories:
Tags:

Acne Prone Skin, Antioxidant, Burts Bees, Cleansing Balm, Detox, Detoxifying, Dry Skin, Glowing Skin, Green Tea, Life, Lifestyle, Makeup, Makeup Remover, Makeup Reviews, No Animal Testing, Oily Skin, Recyclable, Review, Skin Care, Skin Care Review, Skin Care Reviews, Skin Care Routine, Skincare, Thoughts, xfurbeauty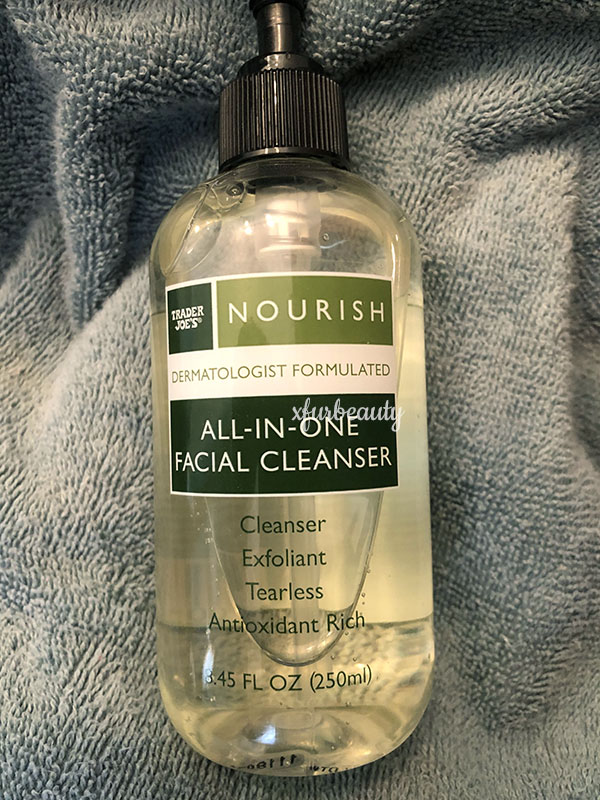 I have a new face wash!!!! 🙂 It's because the Trader Joe's Tea Tree Face Wash made my skin tingle and dried it out a bit. I needed something more gentle, especially when I'm on Tretinoin. So I picked up Trader Joe's Nourish All-in-One Facial Cleanser. More about this face wash:
All-in-One dermatologist formulated
Leaves skin feeling clean, smooth, and cared for
Gently washes away impurities
Antioxidant rich
Tearless
Exfoliant
Review:
I've been using this face wash ever since my skin became extremely dry and itchy. It's a gel cleanser. All you need is a single pump to cover the whole face. A single pump is a lot of product. It lathers up and rinses clean. It doesn't burn the eyes. Soft and gentle. Right now, this face wash feels good on my irritated, sensitive skin. I like it. But, I'll make an update in the near future. 🙂
Check out My Tretinoin Journey:
Beginning My Tretinoin Journey 🙂
My Tretinoin Journey: 1 Week Results!!
My Tretinoin Journey: 2 Weeks In!
My Tretinoin Journey: 3 Weeks Results
Categories:
Tags:

Acne, All in One Facial Cleanser, Antioxidants, Beauty, Cleanser, Cruelty Free, Exfoliant, Face Wash, Facial Cleanser, First Impression, No Animal Testing, Oily Skin, Review, Sensitive Skin, Skin Care, Tearless, Trader Joe's, Tretinoin, Vegan