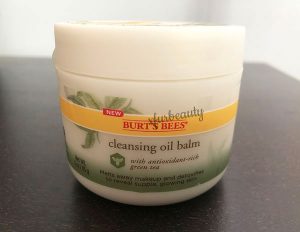 I absolutely love cleansing balms. I had a chance to try Burt's Bees Cleansing Oil Balm. If you LOVE cleansing balms, don't forget to go check out my latest review on this cleansing balm right here. I'll drop the link right here. Enjoy! 😃
My Experience with Banila Co Clean it Zero 3-in-1 Cleansing Balm!
Now on to Burt's Bees Cleansing Oil Balm!
This cleansing balm transforms from a solid balm to a silky oil to gently remove impurities without stripping moisture from the skin. It includes antioxidant-rich green tea to fight against harmful effects of pollution and free radicals. It leaves the skin healthy, soft, and glowy. Removes makeup, dirt, oil without over-drying the skin. Rinses away easily. It's paraben-free, phthalates-free, SLS-free, and petroleum-free. No animal testing. Responsible sourcing and recyclable.
Now here are my results and experience with Burt's Bees Cleansing Oil Balm! 🙂
My experience
This cleansing balm comes in a 3 oz. jar. It's tiny. When opening the jar, I noticed that the cleansing balm is the same coloring as the packaging. It's a light pale greenish hue (see photo below to see the color of the cleansing balm product). It's not a fragrance-free product. It has an herbal scent to it. The balm is soft to touch. Yes, it comes in solid form and melts into an oil. Well, it should fully melt into an oil. It didn't fully melt into an oil for me, lol. There were still little chunks of the product in my palm even though I tried to rub the product a little more and add some heat to it for it to melt. It took a little more effort to melt the product. *sigh* That's a negative.
The cleansing balm does feel oily as I expected it to be. I mean, it's called a cleansing OIL balm. Says so right on the packaging. When applied to the skin, it feels soft and gentle on the skin. I actually do like the oiliness of the product. It helps to glide the product across the face much easier. It also helps to glide the product in the most delicate areas of the face, such as the eye area. It felt moisturizing on the skin too. But did it help to remove my makeup? It removed my foundation, eyeliner, eyeshadow, and other makeup, but I had trouble removing my mascara with this cleansing balm. I even left it on for a bit longer to give it a chance to break down the makeup/mascara. Nope, it didn't work. My mascara was still sitting on my lashes just staring back at me.
So I was disappointed in the fact that it did a poor job at removing my mascara. Perhaps this cleansing balm isn't for me. Removing my mascara was one of the most important parts of being a good makeup remover. So, I'm not very happy with the overall results. On top of that, I thought this cleansing balm felt a little too waxy. It does contain wax in the ingredients after all. Looking at the ingredients, it contains helianthus annuus (sunflower) seed wax. I tried rinsing the cleansing balm off, and my skin looked waxy afterwards. I don't recommend using this cleansing balm as a face wash. Make sure to follow-up with an actual facial cleanser to remove any residue left behind on the skin. In saying that, it doesn't rinse away easily or clean. Also, this cleansing balm isn't gentle around the eyes but it is on other parts of the skin. My eyes burned. If you have sensitive eyes (or not), be careful using it around the eyes.
This is what the cleansing balm looks like. Mine had bubbles in it (fresh and new) that I couldn't resist poking at. They left holes behind, lol. I was expecting more of a softer appearance to the balm. It looks more hard and waxy.
Pros & Cons
✅ Pros
Feels soft and gentle on the facial skin (not the eyes)
Moisturizing on the skin
No animal testing
❌ Cons
Contains fragrance (herbal smell)
Feels waxy
Doesn't melt easily
Burns the eyes. Not for sensitive eyes.
Didn't remove all of my eye makeup (mascara)
Conclusion
I wasn't a huge fan of Burt's Bees Cleansing Oil Balm after my experience with it. The product feels way too waxy, doesn't melt easily, and didn't remove all of my makeup off properly. I've tried other cleansing balms, and I find Burt's Bees to be below average. It's not a cleansing balm I would purchase again. I thought it would be better, but I'm just not into it anymore. haha. I've moved on to better makeup removers/cleansing balms.
Categories:

Antioxidant, Beauty, Cleansing Balm, Makeup Remover, Skin Care
Tags:

Acne, Acne Skin, Anti-Aging, Antioxidant, Beauty, Burt's Bees, Burt's Bees Cleansing Oil Balm, Burts Bees, Cleansing Balm, Cleansing Oil, Experience, Glowing Skin, Lifestyle, Makeup, Makeup Remover, No Animal Testing, Recyclable, Review, Skin Care, Skincare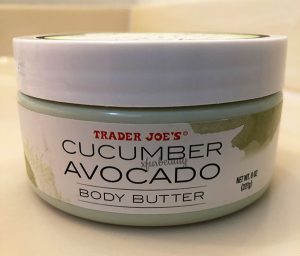 I finished my bottle of Neutrogena Hydro Boost Body Gel Cream. 👈🏻 Previous review here! Should I do a new update?? 🤔 We'll see! I'm currently looking for a new body moisturizer. I remembered that I had a jar of Trader Joe's Cucumber Avocado Body Butter. I thought I would give it a try again. It's there, so why not? lol. The purpose of this body butter is to moisturize, deeply hydrate, and leave the skin feeling super soft and supple. It's enriched with shea butter, avocado oil, cucumber extract, and jojoba oil. So did it do what it's supposed to do?? Keep reading to find out! Here's my experience with Trader Joe's Cucumber Avocado Body Butter!
My experience
The texture of the cream is super soft. It resembles more of a gel-cream than a body butter upon touch. But when applied to the skin, it feels much richer and leaves the skin moisturized. It absorbs and blends into the skin nicely. But it doesn't leave a clean finish behind. Feels like there's a layer of residue sitting on top of the skin after it blends into the skin. It doesn't feel sticky or greasy though. I feel that my skin becomes irritated due to the residue and the fragrance in this cream. Yes, it contains fragrance. This cream smells like artificial cucumbers. And I didn't like it at all. It gave me a really annoying headache each time I used it. So I can see why I stopped using this moisturizer for a while. In my opinion, the product is below average compared to other body moisturizers and butters. The smell is just way too strong for my taste. There's nothing special about this body butter. It contains shea butter, avocado oil, cucumber fruit extract, jojoba oil, sodium hyaluronate, vitamin e…but that's nothing out of the ordinary. A lot of products do too. I just think the overall formulation is just poor. It could've been better.
This is what the body butter looks like. I hope to finish it soon, lol.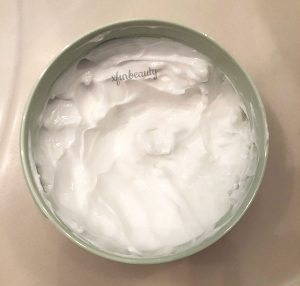 Pros & Cons
✅ Pros
Moisturizes
Contains shea butter, avocado oil, cucumber fruit extract, jojoba oil, sodium hyaluronate, vitamin e
Nice creamy, soft texture
Blends into the skin well
Not sticky or greasy
Not tested on animals
❌ Cons
Contains fragrance. Gave me a bad headache.
Leaves residue behind
Conclusion
Honestly, I don't like this product at all. I thought it would be good when I touched the cream, since it feels so soft and smooth in consistency. But when applied to the skin, it just feels very different. It doesn't leave the skin feeling sticky or greasy, but the residue that it leaves behind is annoying and irritating. I prefer products that just vanishes into the skin and doesn't feel like I have product on. The fragrance in this moisturizer is just as bad. I don't like it. Since it gives me headaches, I only use it on my feet, so I won't have to smell it, lol. All in all, I won't purchase again. I wouldn't recommend it either. It's not as great as I thought it would be.
For more reviews on moisturizers go here
Categories:
Tags:

Avocado, Avocado Cream, Body Butter, Body Care, Body Cream, Cruelty Free, Cucumber, Cucumber Avocado Body Butter, Cucumber Cream, Moisturizer, No Animal Testing, Review, Shea Butter, Skin Care, Skincare, Trader Joe's, Trader Joe's Cucumber Avocado Body Butter, Trader Joes