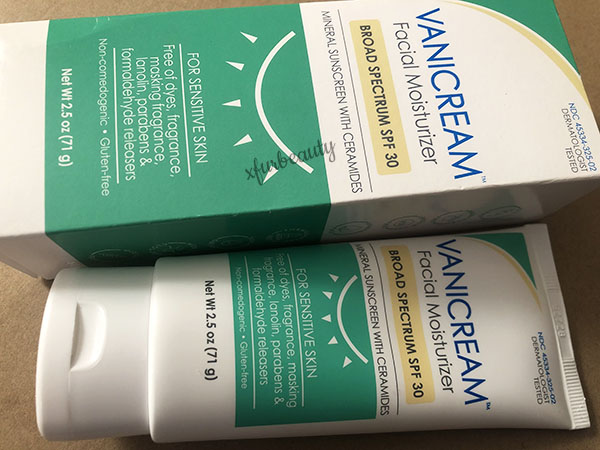 I picked up a new sunscreen for the face. It's the Vanicream Mineral Facial Moisturizer Broad Spectrum SPF 30! This sunscreen is supposed to be a lightweight mineral sunscreen formulated with ceramides and non-nano zinc oxide to provide broad spectrum SPF 30 protection from UVA/UVB rays. It says it's non-comedogenic (won't clog pores) and non-greasy. It's free of dyes, fragrance, lanolin, parabens, formaldehyde, gluten, and botanical extracts. I was very excited about this sunscreen since I'm searching for a more moisturizing sunscreen for the winter. Here are my thoughts and experience on this product!
Texture & Application
This product is a moisturizer with sunscreen. It was way heavier and thicker than I expected. It claims to be a lightweight mineral sunscreen. It's a mineral sunscreen (19.5% Zinc Oxide) alright, but it's nowhere near being lightweight. I used the recommended amount of sunscreen, and it was so difficult to blend into the skin due to the thickness of the product. The product is a cream that melts into the skin. It feels super soft, and I was super ecstatic about using it, but the finish was awful. It left my skin looking super oily, shiny, and greasy. My face looked like it was smeared with oil. There was a subtle white cast. I didn't think was too bad. I could tolerate the white cast, but I couldn't tolerate the greasiness of the sunscreen. It just wasn't a good look. My skin is already oily. Using this sunscreen made my skin look even more oily. It took so long for the product to absorb into the skin. It just sat on my skin. I really don't have the time for a sunscreen to take hours to set in the morning. 5 minutes? 10 minutes is OK. 30 minutes to 1 hour? No. I don't have the time for that. I have other responsibilities and obligations to take care of. It feels like the sunscreen shifts around on the face too, so I'm not sure if I'm getting an even coverage or protection. Applying this sunscreen was a pain in the butt.
It's very moisturizing.
Since it's a moisturizer with SPF, it moisturizes the skin very well. It helped with dry patches and flaky skin. Reapplying the recommended amount is not ideal with this product, lol. I can't walk around with a glistening, greasy face + letting the sunscreen absorb into the skin takes too much time. Don't even bother reapplying with this product with makeup on. It's not going to work. It'll smear your makeup. But this product is really good for touch-ups on dry areas. For example, the skin around my eyes get really dry sometimes. This sunscreen works to keep them moisturized. It kept my skin moisturized throughout the day and didn't irritate my skin. It soothed my dry skin. It makes an amazing moisturizer that contains SPF. Yeah, it only contains SPF 30, but it's better than using a plain moisturizer. It's a moisturizer and sunscreen in one, which makes it a better choice for mornings when the sun's out. The ingredients in this product aren't too bad either. It contains ceramides and squalane. I'm not a huge fan of squalane, but I like my ceramides. I can't get over how moisturizing this sunscreen is. 🥰
Breakouts??
Sadly, after 3 days of using this sunscreen, my skin started to get clogged. I noticed hard sebum within my pores. There were lots of them. I noticed some other breakouts too on my nose, forehead, and chin. I'm glad I stopped using it on time before it made my skin worse. Once I stopped using it, my skin started to look better, clearer. So, it looks like this sunscreen wasn't made for acne-prone skin. It claims to be non-comedogenic (won't clog pores), but it's too heavy and greasy. Even though it's a moisturizer with SPF, it's very easy to tell that it's a sunscreen. The texture of the product is thicker. It sits on the skin like other sunscreens I've used. It's just more moisturizing. It's a no-go if your pores get clogged easily. Maybe it's just me, lol. My pores get clogged veryyyyy easily, and I have skin that's very acnegenic. It didn't work for me.
Final Thoughts
I was hoping that Vanicream Mineral Facial Moisturizer Broad Spectrum SPF 30 would work. I was looking for a moisturizing sunscreen. It's very disappointing that I can't use this on my face due to it being greasy, oily plus breakouts. But, I can use it as a moisturizing SPF for the eye area and neck. I really enjoyed using it around my eyes since it's super moisturizing and doesn't irritate or burn my eyes. My skin is getting a little more dry and this product could help lessen the dryness on that part of my face. The skin around my eyes is one of the first areas that dry out too. It would be nice if it was at least SPF 50, so I'm not sure if I'm going to purchase it again for this purpose. I'll have to keep using the product to see if I like it enough to keep it. Another sunscreen I have — Neutrogena Sheer Zinc Face Mineral Sunscreen SPF 50 makes a good moisturizing sunscreen for the eye area too. It just doesn't contain ingredients like ceramides. Neutrogena Sheer Zinc Face Mineral Sunscreen SPF 50 smells kinda revolting, while Vanicream has no fragrance or smell to it. So it's not going to hurt to use Vanicream just for the moisture, ceramides, and SPF. 😀 I didn't mention this yet, but Vanicream is not sweat or water-resistant. All in all, I don't think it's a terrible product. I just can't use it on my face.
What Vanicream Mineral Facial Moisturizer Broad Spectrum SPF 30 looks like:
This is what Vanicream Mineral Facial Moisturizer Broad Spectrum SPF 30 looks like. It's not as lightweight as advertised. It feels thicker, and it's very moisturizing on the skin (love!!). The product came sealed. I'm really loving Vanicream products, since the ones I have were all sealed. 👌🏻👍🏻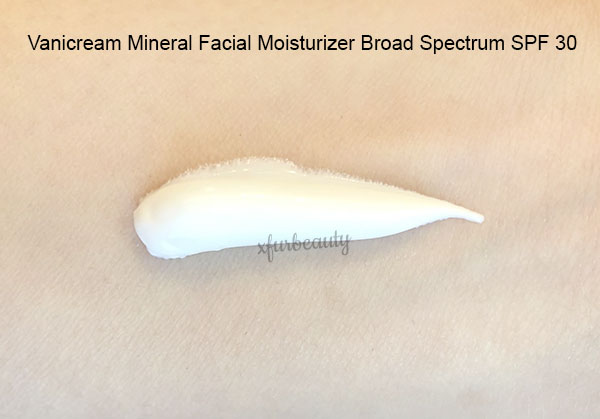 Categories:
Tags:

Acne, Acne Prone Skin, Acne Skin, Acne Skin Care, Anti-Aging, Beauty, Broad Spectrum, Dry Skin, Experience, Lifestyle, Mineral Sunscreen, Non-Comedogenic, Oily Skin, Review, Skin Care, Skin Care Routine, Skincare, SPF, SPF 30, Sunscreen, UVA, UVB, Vanicream, Vanicream Mineral Facial Moisturizer Broad Spectrum SPF 30, Winter Skin Care, Wrinkles, Zinc Oxide