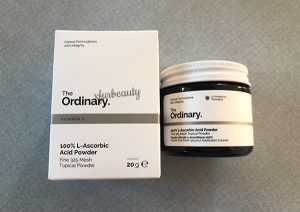 It's been 4 months using The Ordinary 100% L-Ascorbic Acid Powder. Yes, 4 MONTHS! If you need a recap on this product, GO HERE. So I started using this ascorbic acid powder to help with acne marks and to achieve a brighter complexion. I was having trouble with other vitamin c essences and serums. I couldn't find a vitamin c product that was compatible with my skin. I would get clogged pores and breakouts from other vitamin c products. So I thought, hey, let's try the powder form instead. It doesn't contain any other ingredients in it besides vitamin c. It's 100% l-ascorbic acid powder! 🍊
So this product comes in a jar. It's tiny. It's only 20g. Even though it's only 20g, I still have a ton of product left after 4 months of use. Seems like it'll last for a couple of years since I don't use much of it anyways, and I use it on a daily basis. Just a little bit of product goes a long way. It can get annoying when I have unscrew the lid, scoop out the powder, and mix it with my other skin care products. I have to be more careful because I don't want to spill the product all over the place. It's just plain messy. I think that's one of the downsides of this product — it's not mixed for you, you have to do it yourself.
With this ascorbic acid powder, I can use almost half a scoop without any issues. I worked my way up to that amount of powder over the months. It doesn't sting or burn my skin. My skin just takes it without any issues. I mix the ascorbic acid powder with my essences, which are the Cosrx Hyaluronic Acid Hydra Power Essence and Cosrx Advanced Snail 96 Mucin Power Essence. I mix these two together. Yeah, I'm weird, but I like the combination. I have hyaluronic acid and snail. It's an amazing combo to lightly moisturize the skin, especially for oily skin like myself. Works great since I've been doing it! 👍🏻 And I haven't had any issues with using them. No irritation, redness, or breakouts. All is good so far!
Now let's get into the results! It's been 4 months of using ascorbic powder. Have I seen any results?? Hmmm! Honestly, it's been tough. I haven't noticed visible results using it, but I'm not too disappointed in it. I mean, it works as a great antioxidant for my skin. I use it in the morning for the antioxidant properties and to boost my UV protection (while using SPF). Also, since the powder lasts forever, there's not much to complain about yet besides having to mix it myself in the morning. haha. Even though I'm still using this ascorbic acid powder, I've also continued on to using other vitamin c products…
More on my other vitamin c products in another post! 🙂 So, so far, The Ordinary 100% L-Ascorbic Acid Powder hasn't been too bad. But, I still think it's pretty overpriced for what you get. After finishing this powder, I think I'm just going to purchase ascorbic acid powder (not from The Ordinary) from somewhere else. Ascorbic acid powder is pretty cheap. Come on now, right? Why pay more for something that's just ascorbic acid powder. lol. Those are my thoughts on my experience with this product after 4 months. I hope this was helpful. I'll see everyone in my next update! Stay tuned!!
Moisturizing is very important! 💧 Check out my thoughts on the moisturizers that I use!
Another Update on My Moisturizers. What I'm Using Now.
Categories:
Tags:

4 Months, Acne, Acne Marks, Acne Prone Skin, Acne Scars, Acne Skin, Anti-Aging, Anti-Wrinkle, Ascorbic Acid, Ascorbic Acid Powder, Beauty, Cruelty-Free, Experience, First Impression, Lifestyle, Paraben Free, Results, Review, Scars, Skin Care, Skincare, Texture, The Ordinary, The Ordinary 100% L-Ascorbic Acid Powder, Thoughts, Update, Vegan, Vitamin C, Vitamin C Powder, Wrinkles