Oct. 2, 2020
I've had this for a while. It's the Bare Minerals Complexion Rescue Tinted Hydrating Gel Cream SPF 30. I was looking for a new bb cream to try. I know, it's not a bb cream. It's a tinted moisturizer. I feel like bb creams and tinted moisturizers overlap. They are pretty similar from my experience.
About Bare Minerals Complexion Rescue Tinted Hydrating Gel Cream SPF 30:
Skincare benefits infused with naturally radiant color in one easy step
Multi-tasking
Lightweight, skin-quenching gel cream smoothes on effortlessly with just the right amount of coverage
Reveals a dewy, healthy-looking glow instantly
Marine botanicals help hydrate and replenish thirsty skin
Mineral electrolytes help energize the skin
Select antioxidant help defend skin's appearance against environmental stressors
Non-chemical broad spectrum spf 30
Lightweight sheer-to-medium coverage
Clinically tested
Dermatologist tested
Hypoallergenic
No oils, silicones, parabens, fragrance
Review:
This tinted moisturizer dispenses out as a gel-cream (what the product states). It blends into the skin well. Definitely good for oily skin. I have oily skin, and it didn't leave my skin looking shiny. It made my skin appear nice and dewy. Gave my skin that healthy glow. It wasn't hydrating though as the product claims. My skin felt as if it needed moisture after application. As for the coverage, it didn't provide my skin any coverage. I mean, at all. Saying that it provides medium coverage is really pushing it. This tinted moisturizer would be good for someone with perfect skin. I've been using it on and off as a base only because it does nothing for my skin. I like the fact that it contains SPF, but I wear sunscreen underneath my makeup. I also have other bb creams with spf + coverage. I need something more. Something with actual coverage. Tinted moisturizers never do it for me. When I dispense the product out of the tube, it has color to it. But when I apply it to my skin, there's some color…but the color fades when I blend it into my skin and washes off. I thought this product was fairly useless, so I won't purchase it again. It's not worth the money to me. It's a no-go. On to the next!
Categories:
Tags:

Antioxidants, Bare Minerals, BareMinerals, Clincally Tested, Complexion Rescue, Cosmetics, Dermatologist Tested, Fragrance Free, Hydrating, Hypoallergenic, Life, Lifestyle, Makeup, Makeup Review, Moisturizing, Multitasking, Oil Free, Paraben Free, Review, Silicone Free, Skin Care, Skincare, SPF, SPF 30, Sunblock, Tinted Hydrating Gel Cream, xfurbeauty, xfurbeauty blog
Sep. 27, 2020
Leave a comment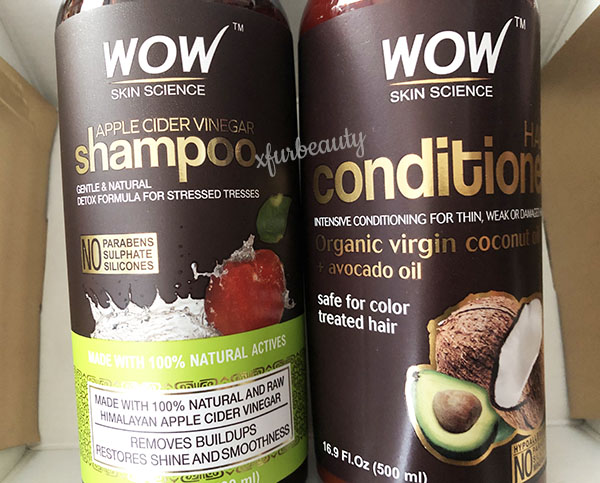 It's time for a review on WOW Skin Science Apple Cider Vinegar Shampoo & Conditioner! I've been using it for over a month. This is what I think about it! 😁
So I switched over to these hair care products after using Natural Riches Argan Oil Shampoo & Conditioner. My experience with Natural Riches was not good. Let's just say…I had a lot of issues with it. It wasn't compatible with my hair type. My experience with WOW Skin Science ACV Shampoo & Conditioner was…let me explain…
The shampoo claims to be good for 'stressed tresses', removes buildup, and restores shine and smoothness, while the conditioner is for thin, weak, damaged hair. The shampoo was actually very drying on my hair. After every wash, my hair appeared limp and lifeless. My hair didn't appear shiny and smooth. It was just bleh. No volume, no moisture, no nothing. I also had more hair fallout because of it. 😢 And I don't use conditioner near my scalp because it'll just make my hair flat and oily. What gives???!! I thought the conditioner would be more hydrating, but it wasn't. I've used other conditioners that were more 'conditioning'. This conditioner was very average. The combo of the two wasn't that great. I honestly thought it would be better due to the ingredients that it contains (coconut oil, avocado oil, raw himalayan apple cider vinegar). From this experience, I won't repurchase again.
Have you tried WOW Skin Science Apple Cider Vinegar Shampoo & Conditioner? I've never heard of it before too until I stumbled upon it and decided to try it out! Leave your thoughts in the comments. 🙂
Categories:
Tags:

Apple Cider Vinegar, Beauty, Coconut Oil, Color Treated Hair, Conditioner, Cruelty Free, Hair Care, Hair Care Products, Hydrating, Life, Moisturizing, Paraben Free, Raw Apple Cider Vinegar, Review, Shampoo, Silicone Free, Sulphate Free, Thoughts, Vegan, WOW Skin Science, xfurbeauty, xfurbeauty blog