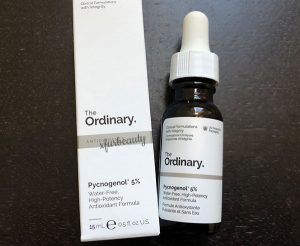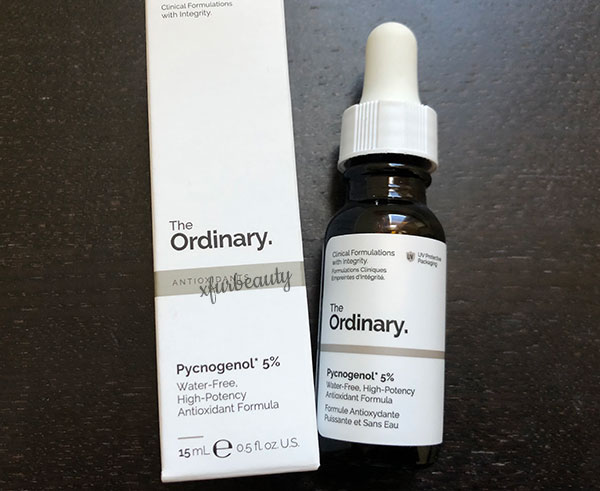 Here's another The Ordinary skin care product I decided to add into my routine! It was just sitting there next to my other The Ordinary serums, and I thought I would just use it. It's The Ordinary Pycnogenol 5%!! Now I have a bunch of The Ordinary skin care products in my routine! If you missed out on the other ones that I talked about, you can check them out right here!
The Ordinary Argireline Solution 10%
The Ordinary Matrixyl 10% + HA
The Ordinary Ascorbic Acid 8% Alpha Arbutin 2%
The Ordinary Resveratrol 3% Ferulic Acid 3%
These skin care products have transformed my skin in a short amount time. I'm so excited for them, and I'm very excited to try The Ordinary Pycnogenol 5% once again! Even though I didn't get good results or any results from this product the last time I used it. But! I have hope because the other skin care products I'm using from The Ordinary have been good additions to my skin care routine so far! So what are the benefits of The Ordinary Pycnogenol 5%?? They are…
Contains procyanidins, bioflavonoids, and organic acids to rejuvenate the skin
Enhances hydration and elasticity
Scavenges free radicals
Recycles oxidized vitamin c
Looks good! I hope it works! lol.
So I've been using this serum for a few days already in the morning and night. It's an antioxidant, so there's not much to report back. I love vitamin c serums and since it recycles oxidized vitamin c that's just awesome. Also, scavenges free radicals plus helps with hydration and elasticity. Rejuvenates the skin? That just sounds too good to be true! With antioxidant products, it's difficult to tell if it's doing anything. It's one of those products where you use for prevention. Hoping that it's making improvements over time. This little serum bottle (0.5 fl. oz.) seems to last a long time. I only use a single drop each time I use it, so it's not going to be too bad adding it into my routine. Just like some of the other The Ordinary serums (Ascorbic Acid 8% Alpha Arbutin 2% and Resveratrol 3% Ferulic Acid 3%), it does feel oily and doesn't absorb well into the skin. But, I haven't had any negative reactions to the serum, so I'm going to keep using it and see if it helps my skin or not over time. So far, everything looks fine and dandy. Look forward to another update on this product! 🙂
Categories:

Anti-Aging, Antioxidant, Beauty, Serum, Skin Care, Uncategorized
Tags:

Acne, Acne Prone Skin, Acne Skin, Anti-Aging, Anti-Wrinkle, Antioxidant, Beauty, Experience, Facial Serum, Fine Lines, Hydration, Lifestyle, Pycnogenol, Review, Skin Care, Skincare, The Ordinary, The Ordinary Pycnogenol 5%, Update, Vitamin C, Wrinkles