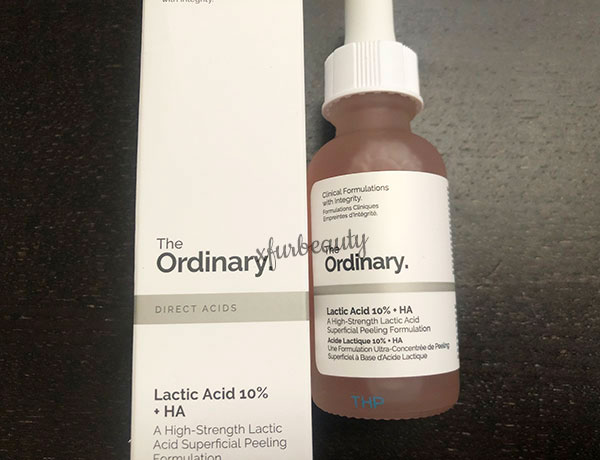 The Ordinary Lactic Acid 10% + HA:
I tried The Ordinary Lactic Acid 10% + HA again. I thought I could add a lactic acid serum into my routine instead of a glycolic acid serum (when I want a chemical exfoliant that is more gentle on the skin). Lactic acid has always been one of favorites. It's gentle, exfoliates, and moisturizes the skin. I have 2 bottles of this serum left that I could use. Let's just try it out again? So I did. The serum comes in a 30 mL glass bottle with a dropper. I'm not a fan of products that come in this type of format. I try to avoid it as much as possible. I just don't like it. Personal preference. So this serum was very easy to use. Just a few drops and that's it. I love how the serum absorbs into the skin quickly and leaves the skin feeling like there's nothing on it. But, unfortunately, I woke up the next morning with some hard sebum within my pores and some more closed comedones out of nowhere! Ugh! This was the only new product I used that night. I knew it was this serum causing breakouts right away. This experience was disheartening. I was hoping that it would work. It's an affordable lactic acid product. I don't remember it causing breakouts either. I could be wrong. I was using a ton of products at one point, haha. Once I noticed the breakouts, I stopped using the lactic acid serum and never looked back (at least not use it on my face ever again, it doesn't work). Here are the ingredients in this product.
Aqua (Water), Lactic Acid, Glycerin, Pentylene Glycol, Propanediol, Sodium Hydroxide, Sodium Hyaluronate Crosspolymer, Tasmannia Lanceolata Fruit/Leaf Extract, Acacia Senegal Gum, Xanthan Gum, Isoceteth-20, Trisodium Ethylenediamine Disuccinate, Ethylhexylglycerin, 1,2-Hexanediol, Caprylyl Glycol.
An ingredient or more than one ingredient in this product caused breakouts. I wonder if it's the isoceteth-20? I remember using a serum with this ingredient. It gave me the same reaction. I developed hard sebum within my pores and closed comedones. My skin looked bumpy.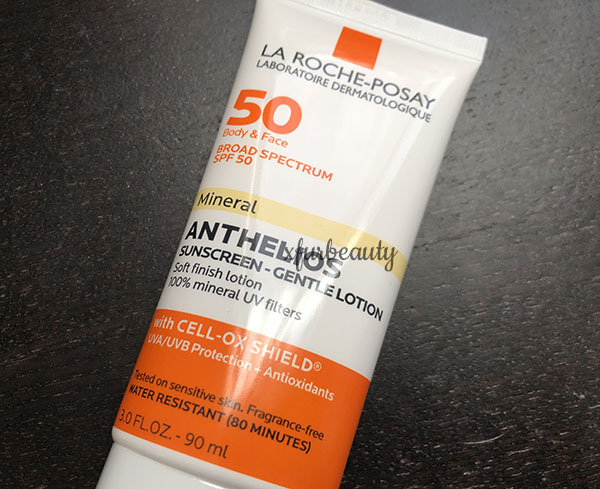 La Roche-Posay Anthelios Body & Face Mineral Sunscreen Gentle Lotion SPF 50:
I haven't used La Roche-Posay Mineral Sunscreen Gentle Lotion SPF 50 consistently in a while. I've been using CeraVe Hydrating Mineral Face Sheer Tint as my main SPF. It's been working for me even though it's only SPF 30. Even though I'm using it, I do have some gripes on this (CeraVe) particular sunscreen. Since it works and doesn't cause too many issues, I'm going to keep using it until it stops working. Whenever that is. But there are days where I reach for a higher SPF. That happens to be the La Roche-Posay Mineral Sunscreen Gentle Lotion SPF 50. This sunscreen is a lotion that feels soft and spreads ever so nicely across the skin. It blends in so well. It does leave a slight white cast on my skin, but it doesn't bother me that much. I was able to finish at least 5 or 6 bottles of this sunscreen last year. I think I'm on my 6th or 7th bottle now. I can't remember, but it's around there. This mineral sunscreen is different from the ones I've used before. It's moisturizing but helps to absorb excess sebum on the skin. When used on flaky, dry skin, it can accentuate the dryness. Also, that white cast that I mentioned, if you have a richer, deeper skin tone, I don't recommend this sunscreen at all. You can give it a try if you want, but there is a noticeable white cast (considering how much sunscreen a person has to apply to get the full SPF labelled on the bottle plus reapplication). Even though the white cast didn't bother me that much, I eventually moved on to a tinted mineral sunscreen instead. It's less of a hassle, and I've had less issues with blending it into my skin when I'm in a rush in the morning.
I thought this sunscreen would become my HG sunscreen. I mean, I've used several bottles of it already. Sadly, lately, it hasn't been working like it used to. The sunscreen still has all of the qualities it had before like having a nice texture and consistency that's soft to touch, blending into the skin well, has a nice matte finish, high SPF, it's a mineral sunscreen. But, I've been noticing breakouts every time I use it. Every time I use it, I have new acne. I always make sure I remove my sunscreen off thoroughly at the end of the day too. Why is it making me breakout now? Was it clogging my pores before? I wonder if it's been clogging my pores this whole time! 🤔 It could be. I was using a bunch of products, so I couldn't pin point what product/products were causing breakouts. This could be one of the products along with a bunch of others, lol. So after experiencing acne from this sunscreen, I immediately stopped using it on my face. I didn't keep trying to make it work. I'm already using another sunscreen that isn't causing acne (I hope, hahaha!). It was whatever to me at this point. I only have one bottle of the La Roche-Posay Mineral Sunscreen left, so it's not that big of a deal. I'm already more than halfway through the bottle. I guess I'm back to searching for a higher SPF mineral sunscreen once again. It's disappointing that this one didn't work. I can't believe it took me this long to figure it out! I thought it worked so well!! Ahh! Who knew! ha!
Follow me on my battle against closed comedones! ~ My Experience After 1 Week Using The Ordinary Glycolic Acid 7% Toning Solution + Other Skin Care Updates
Categories:
Tags:

10% Lactic Acid, Acne, Acne Marks, Acne Prone Skin, Acne Scars, Acne Skin, Anti-Aging, Beauty, Experience, La Roche Posay, La Roche-Posay Anthelios Body & Face Mineral Sunscreen Gentle Lotion SPF 50, Lactic Acid, Lifestyle, Mineral Sunscreen, Review, Reviews, Skin Care, Skin Care Products, Skincare, SPF 50, Sun Care, Sunblock, Sunscreen, The Ordinary, The Ordinary Lactic Acid 10%, Wrinkles