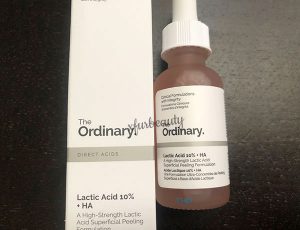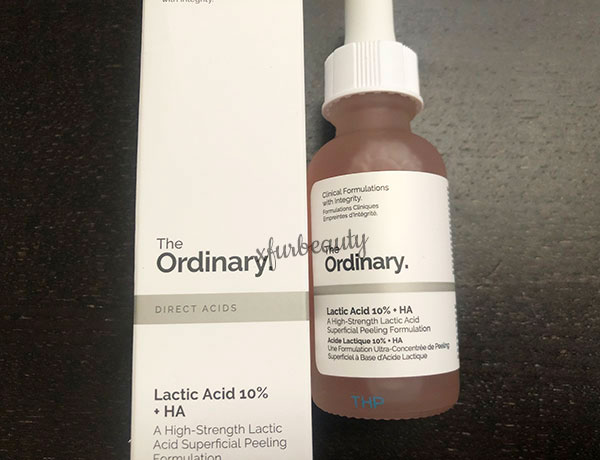 I talked about starting The Ordinary Lactic Acid 10% + HA not too long ago to combat acne and to maintain a blemish-free complexion. It's been ONE week using The Ordinary Lactic Acid 10% + HA! Here are my results after a week of use! 🙂
After the first night of using The Ordinary Lactic Acid 10% + HA, I woke up the next morning with breakouts that are more calm and appeared to be much smaller. My skin looked less oily too. Everything went pretty well. I didn't have any new breakouts or random clogged pores. My skin looked good. At first, I thought I would only use this serum a few times a week, but I ended up using it daily (only at night). I think I could use it in the morning too if I wanted to. It didn't dry out my skin like most chemical exfoliants do. My skin did peel a little bit around my mouth and chin area, but it wasn't too bad. After a few more days of using the serum, I noticed some blemishes. It looked like my skin was purging. I had some clogged pores prior to using The Ordinary Lactic Acid 10% + HA, so I wasn't too surprised. The pimples that popped up were in my breakout-prone areas. They all healed after a week of using this serum. So it looks like it's doing something for my acne. I've been struggling to find a chemical exfoliant that's gentle and works at fighting against breakouts. This may be it! Also, I'm really liking my skin texture and how my overall complexion looks. It just looks really good after adding this lactic acid serum to my routine. It's wonderful how this lactic acid serum has helped with clogged pores and blemishes too. The smoothness of my skin says it all! This product has been amazing at gently exfoliating my skin, keeping my skin soft and supple, and helps to reduce the oilies in my skin. It's really great at reducing excess sebum! So far, I like it. It seems to be working, and it's very affordable! I tried The Ordinary Lactic Acid 10% + HA many months before, but it didn't work. Well, it seems to be working now. 🙌🏻
My use of The Ordinary skin care products are stacking up! Go read more about my recent experiences with them here!
The Ordinary Argireline Solution 10%
The Ordinary Matrixyl 10% + HA
The Ordinary Ascorbic Acid 8% Alpha Arbutin 2%
The Ordinary Resveratrol 3% Ferulic Acid 3%
The Ordinary Lactic Acid 10% + HA (first experience 🙂)
Categories:
Tags:

1 Week, 1 Week Results, 1 Week Update, Acne, Acne Prone Skin, Acne Skin, Anti-Aging, Beauty, Blemishes, Clear Skin, Exfoliant, Experience, Facial Peel, Facial Serum, Fine Lines, Hyaluronic Acid, Lactic Acid, Lifestyle, Peel, Results, Review, Skin Care, Skincare, The Ordinary, The Ordinary Lactic Acid 10% + HA, Update, Wrinkles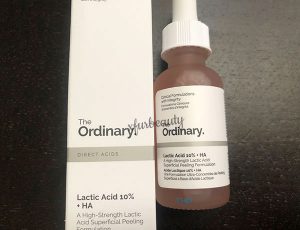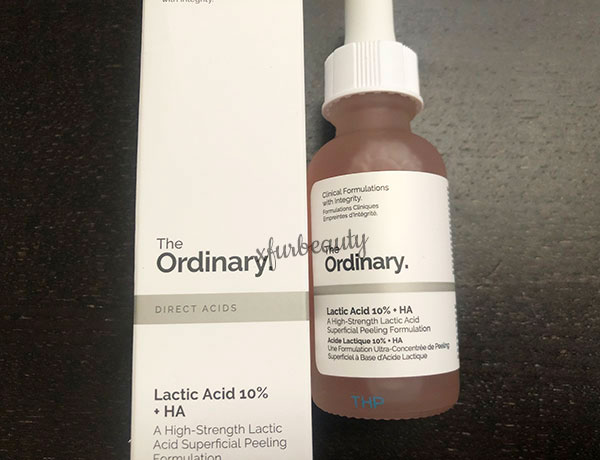 I decided to use The Ordinary Lactic Acid 10% + HA tonight. I'm trying to find other ways to fight against blemishes when I'm off of tret and benzoyl peroxide is going to be the last resort if all fails. I was using a glycolic acid product before on and off. I didn't really commit to it because it would leave my skin feeling super dry and made my skin peel like crazy. Not the good kind of peel. My face started to look all dry and crusty. The peeling hurt my face too. Whew! So glad that's over (for now). I might start it back up if The Ordinary Lactic Acid 10% doesn't work out. After all of that and I'm willing to trying it again? LOL! YES! It could work again. Who knows! I still have it too. So here I have an exfoliant that is more gentle on the skin. It's known to be the gentlest of all alpha hydroxy acids. It helps to brighten dull skin, makes the skin look firmer, evens out the skin tone, and helps to reduce the appearance of fine lines and wrinkles. Yes, it's lactic acid. Lactic acid is something I've used before with success, but I don't know if it's going to work again. It's been a while. Things change, life happens.
So The Ordinary Lactic Acid 10% + HA contains 10% lactic acid (as it states on the packaging and bottle), and it contains hyaluronic acid. The ingredient list is very short and simple. Here it is if you're interested…
Aqua (Water), Lactic Acid, Glycerin, Pentylene Glycol, Propanediol, Sodium Hydroxide, Sodium Hyaluronate Crosspolymer, Tasmannia Lanceolata Fruit/Leaf Extract, Hydroxyethylcellulose, Isoceteth-20, Trisodium Ethylenediamine Disuccinate, Ethylhexylglycerin, 1,2-hexanediol, Caprylyl Glycol.
Now on to my experience…
My Experience With The Ordinary Lactic Acid 10% + HA Tonight
The first thing I noticed was the color of product (again). I'm so intrigued by the color of the serum. It looks so interesting and pretty! So with this serum, I took a few drops into my palm and gently pat it into my skin. It absorbed into my skin quite well this time compared to my previous experience with it. I followed up with a moisturizer just in case my skin dries out from it. I do like the semi-drying effect it had on my skin. I have oily skin, so it's nice to see all of the oilies vanish right on the spot, lol. The serum didn't feel drying on my skin at all. It went on pretty well without any issues. The only thing I'm worried about is if it'll break me out. I'm currently using other The Ordinary skin care products with similar ingredients to the lactic acid serum. I don't think there should be a problem. Well, I hope not! I'm hoping that my skin will look much better and even clearer tomorrow morning! I hope it helps to diminish some clogged pores that's all. It'll be a plus if it helps with fine line, wrinkles, and improves my overall skin texture. Wish me luck! A new update coming soon! Have a good night everyone! Toodles! 😁
If you missed out on my posts on The Ordinary skin care products, follow the links below!!
The Ordinary Argireline Solution 10%
The Ordinary Matrixyl 10% + HA
The Ordinary Ascorbic Acid 8% Alpha Arbutin 2%
The Ordinary Resveratrol 3% Ferulic Acid 3%
Categories:
Tags:

Acne, Acne Prone Skin, Acne Skin, Anti-Aging, Beauty, Blemishes, Clear Skin, Exfoliant, Experience, Facial Peel, Facial Serum, Fine Lines, Hyaluronic Acid, Lactic Acid, Lifestyle, Peel, Review, Skin Care, Skincare, The Ordinary, The Ordinary Lactic Acid 10% + HA, Wrinkles