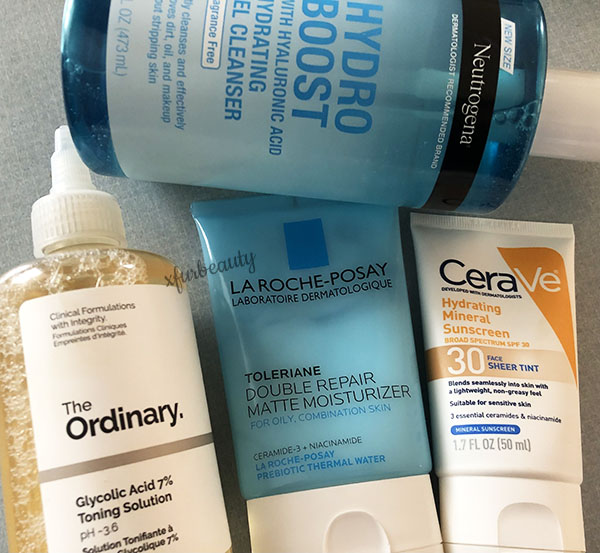 Here's my skin care routine! 🙂 Let's start…
Face Wash: Neutrogena Hydro Boost Hydrating Cleansing Gel with Hyaluronic Acid Fragrance Free
The face wash I'm using is Neutrogena Hydro Boost Hydrating Cleansing Gel (the fragrance free one). I've tried other cleansers in the past weeks, and I didn't like them as much as this face wash. The Neutrogena Hydro Boost Hydrating Cleansing Gel feels soft, soothing, and gentle on the skin. It slightly foams up, cleanses the skin, doesn't leave my skin feeling dry, and refreshes my skin. It doesn't contain any acne fighting ingredients. I prefer facial cleansers without them. I've tried cleansers that contain salicylic acid or benzoyl peroxide before in the past, and they didn't do anything for my acne. I didn't see the point in using them anymore. I'll just stick to a plain, boring face wash that cleanses without stripping the skin. This one has been working for me.
Acne Treatments: The Ordinary Glycolic Acid 7% Toning Solution
It took me a while to settle on products for my acne. I think this is it for now. I'm only using The Ordinary Glycolic Acid 7% Toning Solution to help unclog my pores and to help prevent future breakouts (if it works that way, lol). I love how this product is a liquid. It absorbs quickly into the skin and leaves my skin feeling very clean. It doesn't feel sticky or tacky on my skin. Let's see if this works or not. I've only been using it for 2 weeks. Check out my experience/results below (first week).
My Experience After 1 Week Using The Ordinary Glycolic Acid 7% Toning Solution + Other Skin Care Updates
Moisturizer: La Roche Posay Toleriane Double Repair Matte Face Moisturizer for Oily Skin
It took me forever to find a moisturizer that works on my skin. In other words, moisturizes and doesn't cause breakouts. This moisturizer isn't the most moisturizing. It's also not the best at absorbing excess sebum (like it claims to do). I still have excess sebum seeping through the moisturizer afterwards. But, it's good enough for now. It somewhat moisturizes, and I haven't noticed any breakouts. It also contains niacinamide, but I haven't noticed a brightening effect or any other improvements with this ingredient. I'll stick to this moisturizer until I find another moisturizer that's better for my skin (if there's one). My skin doesn't seem to like moisturizers too much. I've gone through life not bothering with moisturizers due them clogging my pores.
Sunscreen: CeraVe Hydrating Mineral Sunscreen SPF 30 Face Sheer Tint
I have a few more sunscreens, but the one sunscreen that I've been using the most is the CeraVe Hydrating Mineral Sunscreen SPF 30. It's a mineral and tinted. Contains SPF 30. The tint in this sunscreen product makes it easy to reapply throughout the day. The tint is a tad dark on my skin. At first, it didn't bother me. But now, it makes my skin appear a little dull. The shade isn't a perfect match for my skin. It blends into the skin, but I can still see that my face is darker than the rest of my body when using this product. Oh well, haha. I'll use it for the time being. I haven't experienced breakouts from it after going through 3 bottles. I'm on my 4th! So with the tint, there's no white cast, obviously. It's moisturizing and simply just very easy to use. It's currently winter with less sun. I'm mostly indoors, so that's why I've been using this SPF more often over the other sunscreens I have. This will change when spring and summer arrives. I will need a higher SPF.
In the morning, I use a lip balm with SPF too. You can check out my lip care routine right here!
So what else should I add? I'm only using 4 products (face). 😂
Categories:

Acne, Beauty, Exfoliant, Face Wash, Moisturizer, Skin Care, Sunblock
Tags:

Acne, Acne Prone Skin, Acne Skin, AHA, Alpha Hydroxy Acid, Anti-Aging, Beauty, CeraVe Hydrating Mineral Sunscreen SPF 30 Face Sheer Tint, Experience, Face Wash, Facial Cleanser, Fragrance-Free, Glycolic Acid, Glycolic Acid Solution, Hydro Boost, La Roche Posay Toleriane Double Repair Matte Face Moisturizer for Oily Skin, La Roche-Posay, Lifestyle, Mineral Sunscreen, Moisturizer, Neutrogena Hydro Boost, Neutrogena Hydro Boost Hydrating Cleansing Gel, Neutrogena Hydro Boost Hydrating Cleansing Gel with Hyaluronic Acid Fragrance Free, Oily Skin, Review, Sensitive Skin, Skin Care, Skin Care Products, Skin Care Routine, Skincare, SPF, SPF 30, Sun Protection, Sunblock, Sunscreen, The Ordinary, The Ordinary Glycolic Acid 7% Toning Solution, Tinted Mineral Sunscreen