Week 2 Results… 🙂
Day 8: I used Tret last night. It didn't tingle or burn. It didn't feel warm on my skin either. It went on nicely. My skin does feel a little dry, but it's nothing to call home about. My skin has returned to a better state — irritation decreased due to moisturizing the skin the past couple of days. Thanks to the oils and shea butter I used. I wish I could use shea butter forever on my skin, but I can't. It's not a long-term skin care product for me. It's a tad too heavy for my skin type…even though I loved what it did for my skin. I can't use it on a daily basis (for fear it might break me out). I noticed some pimples. I'm not sure if it's the shea butter or just my skin breaking out (initial breakout from Tret). But, I'm not going to take the risk. I'll use it when my skin needs it the most, but stop when I don't need it anymore. Seems to work well that way. I'll be on the search for oils that are more suitable for acne-prone skin (no jojoba oil, lol).
Moisturizing skin care products I'm using now:
I'm going to continue on with Tret. Skin is moving in the right direction. 🙌🏻
Day 9: My skin peeled today. The whole day. Almost all of it came off tonight. I'm still shedding as I write this, lol. But, I am happy all of that dead skin just came off! Finally! It's about time! Along with the dead skin, pimples, pimples, and more pimples. Inflamed pimples! The one underneath my eyebrow hurts so much, haha. I hope it goes away soon! The comedones have been thriving under my skin for way too long. I want them all out NOW! After all of that dead skin coming off, they seem to come out much easier from the pores and heal faster too.
So I stopped using Acure Brightening Day Cream. It's not for my skin type. It's too thick and feels like it sits on top of my skin. Potential pore clogger. A full review here — Updated Review: Acure Brightening Day Cream.
I stopped using these oils on my face…
I've included these oils…
They're supposed to be better for oily, acne-prone skin.
I thought I would be able to use Tret tonight. Nope! My skin is way too raw and sensitive after the peel. I decided to moisturize my skin tonight. Gotta listen to your skin, right? That's what I'm doing. 🙂
Day 10: I have some skin peeling. Tried to remove them this morning…but I didn't want to tug on my skin. I left them alone. The initial breakout sucks. I'm dreading it so much right now. I've only had 4 new big pimples so far. The rest are comedones that need to come out and die off, lol. As for the new pimples, one near my eyebrow exploded, one near my ear is completely gone, a new one by my nose/cheek, and one on the side of my face (so random, lol). LMAO! I forgot to mention the nodule on my chin. That one hurts like a &@%!. Good news, my skin isn't too sensitive anymore. I can continue on with Tretinoin tonight. We'll see how the rest of the week goes. I'll play it by ear.
P.S. I added a hydrating face mask tonight to give my skin some more moisture. It's called Andalou Naturals 1000 Roses Rosewater.
Day 11: The pimples I had this morning disappeared. I don't know how, but they did. A lot of the previous pimples were peeling too. That annoying nodule I turned into a cyst and exploded. LOL!! Thank goodness. It was painful to touch.
About the oils…
I said that I stopped using argan oil, but I changed my mind. I decided to include it in my skin care routine along with rosehip oil and hemp oil. Argan oil didn't do anything bad to my skin. It didn't break me out either. Im going to continue to include it. Why not? If anything bad happens, I'll discontinue it ASAP. I love how all of these oils hydrate my skin. Way better than facial creams. I haven't had any breakouts from them yet.
Today, my skin looks way better than yesterday. It's like night and day, which makes me even more excited for the results by the end of the week! My makeup looked way, way better! It was also easy to apply it. Not that many flakes going on. For the past couple of days, I had a difficult time making my makeup look decent due to the peel, haha. Today is a different day. 🤗
It's a green light to continue to use Tret tonight. I'm starting to feel the warm feeling when I apply the gel to my skin. Let's see what happens tomorrow! =)
Day 12: A few new pimples today. Along with that, more skin peeling. Honestly, that makes me happy because I know it's still working. What's so great is that my skin doesn't feel as sensitive anymore. I think the facial oils that I use in the morning are helping TONS! My skin feels hydrated, and it makes the peeling process much easier. I haven't had any breakouts from them either! YES!!! 😊 I hope it stays that way. 👌🏻
Day 13: I woke up this morning with a few more pimples…after a layer of skin peeled off. Also, my skin feels drier too after washing it. Hmmm. Gotta make sure I lather myself in moisturzer to prevent cracked skin and further dryness. I'm going to take a break from Tret tonight and moisturize my skin.
Day 14: It's the last day of WEEK 2! I can't believe it. Hmmm, skin is TERRIBLE! I think today is the worst it has been compared to prior days! 😢😢 I'm still getting breakouts here and there. These breakouts are quite painful. They're bumps under the skin. Lots of red, swelling, tender to touch type of acne. These take a little longer to heal too. But, I am trying to hang in there. TRYING.😭😭😭 I think I'm at the stage where the skin looks horrendous. My makeup doesn't even look good when applied. I'm just like WTH. This is gross. I don't even want to look at anyone in the eye! UGH! Horrible!
This made me think. What if other skin care products I'm using are clogging my pores???? So, I'm discontinuing some skin care products. Simplifying it while on this treatment. Some skin care products that come to mind are…
Here's a wrap up on what I'm using: Rosehip Oil, Vitamin C, Eye Care Products. At night, I'll throw in a sheet mask + some moisturizing face masks. That's it! Pretty simple. 👌🏻
Alright! Let's move on to WEEK 3!!! 🙌🏻🙌🏻🙌🏻 And I'm hoping the breakouts will go away by then……
More on my My Tretinoin Journey:
My Tretinoin Journey: Week 1 Results
I was on Tretinoin Cream before. Read my experience here:
My Tretinoin Journey: 1 Week Results!!
My Tretinoin Journey: 2 Weeks In!
My Tretinoin Journey: 3 Weeks Results
My Tretinoin Journey: 1 Month Results!
My Tretinoin Journey: 1 Month + 1 Week Results
My Tretinoin Journey: 1 Month + 2 Weeks Results
My Tretinoin Journey: 1 Month + 3 Weeks Results
My Tretinoin Journey: Going off of Tret…
Check out my 30 Days of BP too:
Categories:
Tags:

Acne, Acne Log, Acne Marks, Acne Prone, Acne Scars, Acne Skin, Acne Skin Care, Acne Skin Care Routine, Anti Aging, Clear Skin, Experience, Journey, Life, Lifestyle, Oily Skin, Results, Retin A, Review, Skin Care Routine, Thoughts, Tret, Tretinoin, Tretinoin Gel, Tretinoin Journey, Week 2, Week 2 Results, Wrinkles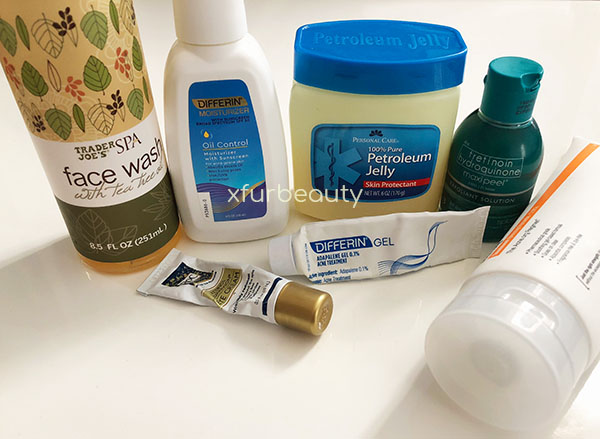 Welcome to my 2 week update on Tretinoin! I hope my experience is helpful to anyone that's reading! 🙂
Day 8: Skin feels a tad dry. Dead skin cells are coming off every single day! 🙂 I'm seeing improvements by the day! Large pimples are still red, but they are getting smaller when the dead skin cells peel off. Smaller pimples are drying up. I can actually extract them easily. My skin is flowing in the right direction. I'm thinking about adding Alpha Skin Care AHA Serum in once a week in the morning soon. I don't know yet. I don't want to dry my skin out even more. It's very tempting though. 😛 It also seems like the Tretinoin has boosted the effectiveness of my actives in the morning. I can feel them tingle on my skin. This includes my 'gentle' AHA from Cos De BAHA too.
Day 9: My skin is still flaking off, especially around my mouth area. Along with that, closed comedones are pushed to the surface. I still have a long way to go. I must say, my BB Cream and other makeup products glide on smoothly. I'm already receiving compliments on my skin! 🙂 🙂 🙂
Day 10: I woke up with a pimple on my chin. WTH. lol. A few new pimples popping out of nowhere. *sigh* It's neverending. 🙁 I hope it's the Tretinoin that's doing it and not the comedogenic ingredient in this cream. So I'm not dealing with post-inflammatory hyperpigmentation. It's red marks I'm dealing with when a pimple is in the process of healing. It's been really easy covering them up until they fully heal compared to PIH. I hope they fade away soon. My Cos De BAHA AHA Serum is beginning to tingle a lot more than before. My skin feels more sensitive as the days go by. I'm really enjoying the fact that my skin is glowy! People are noticing! 😁😁
Day 11: The pimples that I had yesterday are gone. The healing process has been much faster than ever before! It doesn't take weeks for pimples to heal. Less than a week!! My skin is looking sooo good! I'm just going to say it, it looks way better than someone that has naturally good skin! The softness of the skin, the texture, smaller pores, acne scars are fading very quickly, skin looks smooth + glowy. I don't think I'll ever stop using it!!
😀😀😀!!!
And I'm not even 2 weeks in!!! YAY! 🙂
Day 12: 2 new tiny pimples. The rest of my face has cleared up. What I've been dealing with is itchy skin. It's not that dry and there's no burning sensation…it's just itchy skin. Maybe I'll achieve clear, smooth skin in 1 MONTH!!?? I'm sooo excited!!! 🙂
Day 13: I've been dealng with itchy skin like I said yesterday. I decided to stop using the Cos De BAHA AHA Serum and Andalou Naturals Vitamin C Blemish Balm on my face. I'm stopping the Cos De BAHA AHA Serum because I think it could be irritating my skin now, since Tretinoin has made my skin more sensitive. I am stopping the Vitamin C Blemish Balm because it feels too silcone-y for my skin right now. I feel like it's trapping oil underneath my skin and making my itchy skin worse. Let's see if my skin feels better after doing this. Yes, I will continue to use my Dr Jart+ Silver Label BB Cream. I need all the SPF I can get! 😀
Day 14: It's the last day of week 2. I'm still getting the occasional tiny pimple, but that's it. No cysts. Red marks are fading. Skin looks more even, brighter, softer, smoother. Such a dramatic change compared to last week! 😀
Now let's move on to Week 3!!! 👍
My Tretinoin Experience:
Beginning My Tretinoin Journey 🙂
My Tretinoin Journey: 1 Week Results!!
Categories:
Tags:

Acne, Acne Prone, Acne Skin, Acne Skin Care, Acne Skin Care Routine, Clear Skin, Experience, Life, Lifestyle, Oily Skin, Results, Retin A, Review, Skin Care Routine, Thoughts, Tret, Tretinoin, Tretinoin Journey, Tretinoin Log, Week 2, Week 2 Results