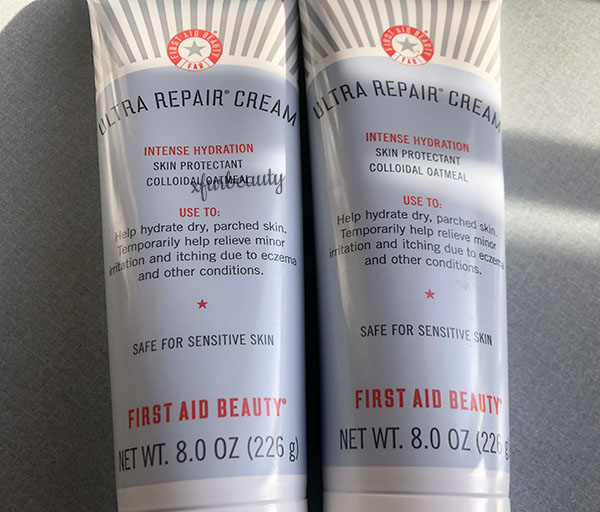 I was searching for a new moisturizer to help with dry, flaky, parched skin. This cream was constantly mentioned. It had good reviews too. I thought I would give it a try even after scanning the ingredients. It contains some comedogenic ingredients that I've had issues with before. But, I ignored it all and picked up a few bottles. They were on sale, hehe. The purpose of this product is to provide instant and long-term hydration for dry, distressed skin and eczema. It contains colloidal oatmeal, which is a skin protectant that helps to relieve itching caused by eczema, rashes, and other skin conditions. Shea butter to moisturize and protect the skin barrier with vitamins, minerals, and essential fatty acids. Allantoin to calm and soothe the skin. It's vegan, cruelty-free, and gluten-free. Since the weather is colder and cooler, and I've been dealing with dry skin, this seemed like the type of product that could help with dry, itchy skin. Also, as I mentioned earlier, it had a ton of good reviews. Some even labeled it as their HG. Let's see if this cream works or not. Here's my experience with this product.
My Experience with First Aid Beauty Ultra Repair Cream:
Texture & Application
The product is a cream. It feels soft, smooth, and creamy. When applied to the face, I didn't apply it like my other moisturizers. It was a little difficult to spread across the face. What I did was place dots of the cream all over my face then gently pat it into the skin. The cream blends into the skin well. But only if it's not used with other moisturizers. I tried using it with another moisturizer (underneath). The First Aid Beauty Ultra Repair Cream started pilling. When I used it alone without any other moisturizer, it blended into the skin easily, no pilling. Even though the product blends into the skin well, it doesn't fully absorb. It sits on top of the skin. I feel like there was a layer of product that's sitting on top of my skin the whole night. It reminded me of CeraVe Moisturizing Cream. They feel very similar on the skin. They both sit on top of the skin.
Helps with dryness and flaky skin.
This cream helps with dry, cracked, flaky skin. Even wounded skin. I noticed that some parts of my face was over-exfoliated. After a day of using this cream, my skin felt a little better. The over-exfoliated parts of my face looked like it healed and peeled off. It wasn't as dry anymore or reddish in color. It soothed my skin and helped to repair it.
A lightweight rich cream.
This is actually a rich cream even though it feels lightweight when applied and after it (somewhat) absorbs into the skin. My skin doesn't feel like it has moisturizer on even though it's sitting on top of my skin. It's a different feeling. The cream feels and looks matte on my face. It doesn't leave my skin looking glowy, shiny, or oily. The product feels very thin on the skin and a little goes a long way. I only used a little bit of product for my whole face and neck, chest. That amount of product was able to keep my skin from drying out and soothed it.
Did it clog my pores?
I only used this cream for 1 day and 6 hours on my face (nightly use). It should've been only one day. The first day, I noticed some clogged pores all over my oily t-zone. I didn't think it was the First Aid Beauty Ultra Repair Cream clogging my pores. I kept using it the next night. But, I eventually washed it off that same night because I noticed tons of blackheads out of nowhere. I developed pimples on my forehead, upper lip, chin, and a bunch of blackheads on my oily t-zone (especially my nose). The amount of blackheads I saw were disturbing. I washed the product off immediately and opted for my original moisturizer. The next morning, my skin looked much better. No new blackheads. I was going to leave First Aid Beauty Ultra Repair Cream for the second night but something didn't feel right. I was clearly breaking out from the cream. I'm glad I pulled the plug right before it got even worse than what I went through. Whew! If you have oily, acne-prone skin, do a patch test first. This product felt very occlusive on my skin (sits on top of the skin type of feeling). It was just bad for my skin.
It contains Eucalyptus globulus leaf oil.
The last ingredient in this product is eucalyptus. *pause* Why??!! On the bottle, it says that this product is safe for sensitive skin. If you have sensitive skin, do a patch test. I don't have sensitive skin, but my skin has been sensitized by my acne products. When I applied this cream to my face, I can feel my face tingling and slightly burning. It's the eucalyptus. The tingling/burning sensation fades away after a while, but why bother with this ingredient. I can't imagine someone with sensitive skin using this. But everyone is different. I know my skin didn't like it.
Final Thoughts
Unfortunately, the First Aid Beauty Ultra Repair Cream didn't work for me. I really wanted to like it, since I was searching for a new moisturizer. I picked my bottles up when they were on sale. The retail price is $46 each. Thank goodness I didn't pay that much for it. Because it was not worth it at all. I mean, it helped with dry, parched skin that's irritated, but it ended up clogging my pores and giving me tons of blackheads. My nose looked like a strawberry after I used it for a day and 6 hours (lol). It made my acne 10x worse than the actual dryness itself. What's the point of moisturizing when it causes blemishes? Ugh! And eucalyptus? I should've listened to the very few negative reviews I saw. But, in my mind, I just wanted to try it out for myself, haha. Now I'm left with full bottles of this cream that I can't use on my face. I'll use the rest of it on my body or as a hand cream instead. My hands are pretty crusty and dry right now due to the dry, cool weather. Anything helps. I won't repurchase First Aid Beauty Ultra Repair Cream again even if it was on sale. I feel that the CeraVe Moisturizing Cream works the same way without the eucalyptus. I've been using my last jar of CeraVe as my body cream.
Let's talk about the comedogenic ingredients. This is something I ignored (shouldn't have) thinking that it could work for me. Here are the ingredients that popped out when I was looking at the ingredients list. They are Glyceryl Stearate SE, Shea Butter, and Squalane. I've always avoided products with Glyceryl Stearate SE. This particular ingredient has always clogged my pores. Don't mistake this ingredient with Glyceryl Stearate. Glyceryl Stearate SE can cause acne issues if you're acne-prone. At least it did on my skin. Shea Butter is another culprit. I know Shea Butter and my skin don't go well together, especially for the face. I had this issue with another product not so long ago. Squalane is a hit or miss on my skin. I'm currently using a moisturizer (Vanicream Daily Moisturizer for Sensitive Skin) with squalane, and it seems like it's working better on my skin than the First Aid Beauty Ultra Repair Cream. I don't think it's entirely squalane's fault in clogging my pores. I think it's the Glyceryl Stearate SE and Shea Butter in combination with squalane that made my skin break out in acne. On top of that, Eucalyptus just adds into the mix and causes irritation.
I was hoping that the First Aid Beauty Ultra Repair Cream was one of those products that could work since it costs more, could possibly have higher quality ingredients. This cream is 46 bucks. It should be good, right? It's also a highly raved product! Nope, nope, nope, I was wrong. I developed terrible acne from this cream. I wouldn't recommend this product to anyone that is prone to clogged pores. Save your 46 dollars and spend it on something else. There are better moisturizers out there that are less expensive than this cream. I'm not a huge fan of the texture of the product either. It's odd that I don't see that many negative reviews on this product. Here is one, lol.
Back of the packaging.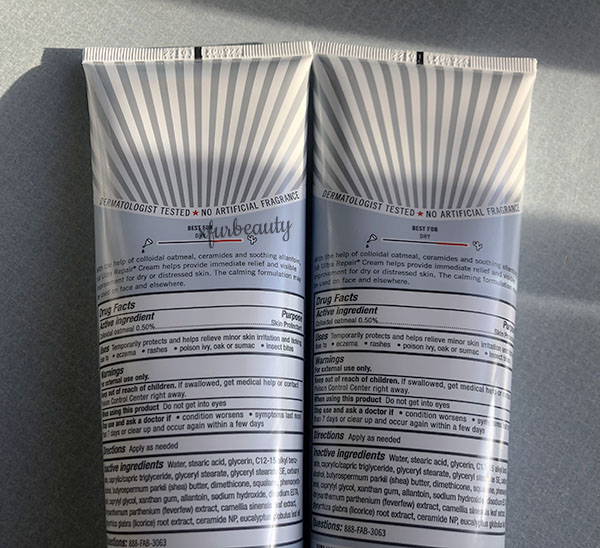 Products came sealed. Left, opened. Right, sealed.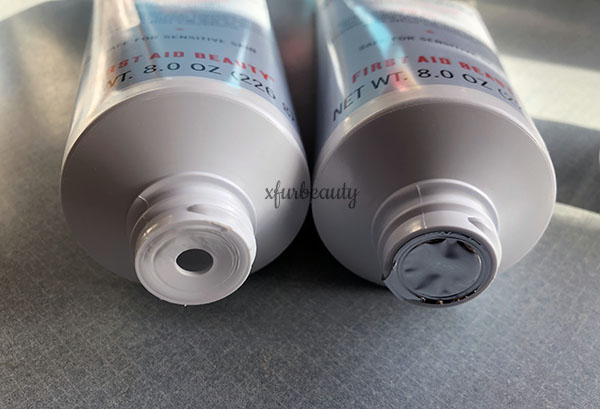 This is what the cream looks like.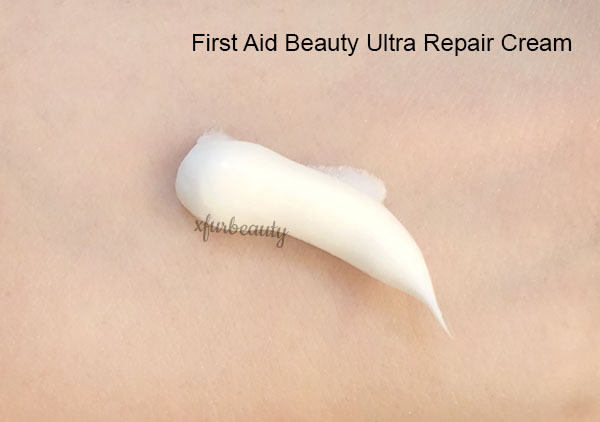 Categories:
Tags:

Acne, Acne Prone Skin, Acne Skin, Acne Skin Care, Allantoin, Beauty, Body Cream, CeraVe Moisturizing Cream, Colloidal Oatmeal, Cruelty-Free, Dry Skin, Eczema, Experience, FAB, Face Cream, First Aid Beauty, First Aid Beauty Ultra Repair Cream, Gluten-Free, Intense Hydration, Lifestyle, Moisturizer, Rashes, Review, Sensitive Skin, Shea, Shea Butter, Skin Care, Skin Care Products, Skin Protectant, Skincare, Ultra Repair Cream, Vegan, Winter Skin Care, Wrinkles