Jul. 6, 2020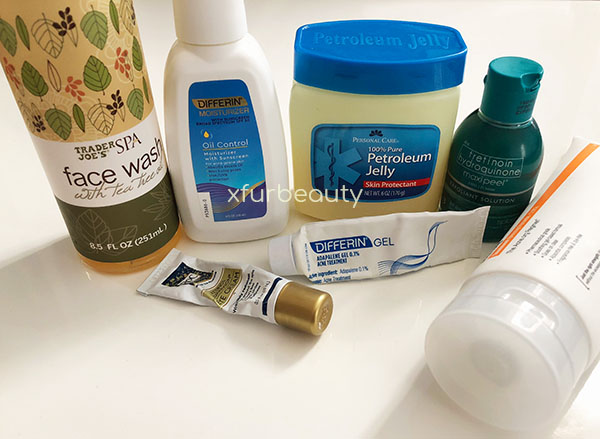 Here are my results for this week! I hope this is helpful! 🙂
Day 29: Last night, I noticed tiny little flesh-colored bumps on my face (especially my forehead). I didn't know what was going on. I thought about my skin care routine for a minute. I wondered if it was my new face wash, which is Trader Joe's Nourish All-in-One Facial Cleanser. Perhaps it's too gentle on my skin that it's not removing the oils off of my face properly. So, I stopped using it and went back to my previous face wash — Trader Joe's Tea Tree Face Wash. Voila! The next morning (today), the flesh-colored bumps diminished. I'm going to continue to use the Tea Tree Face Wash instead even though it tingles. It has always left my skin feeling clean and free of dirt, debris over any other face wash!
I've been wanting to reintroduce AHA back into my skin care routine. I think it's time. All of the dead skin cells sloughed off after mosturizing my skin with jojoba oil. Yay! 🙌 My skin feels good even though it feels sensitive. It's not too bad. So I started using AHA this morning. My experience from using it this morning has been good, since I have jojoba oil to keep my skin hydrated. 🙂 Other than that, my skin looks good. It's still smooth and moving in the right direction. Not much acne left. Ahhh, I shouldn't have said that. I'm going to end up with a huge acne infestation! haha. 😛
Day 30: After using AHA, I developed a pimple or two. I decided to use AHA 2 times a week only in the morning. Let my skin rest between days. I'm in no rush, since my skin is about ~98% clear. Using it more often than needed during the week isn't going to make a difference. It'll just dry out my skin even more.
At night, I noticed that my skin gets really oily when using Tret. It's like a thick layer of oil sitting on my skin. :/ Maybe the formula isn't right for me. I'm getting worried about the comedogenic ingredient in this cream. I might have to request a different version of it instead. I mean, my skin is very acne-prone and sensitive to heavy ingredients. That's a thought. SO! I'm thinking about adding in BP in place of Tret every other day to combat the oilyness and fight acne. BP has always been good to me. My skin isn't peeling anymore. Just a little here and there. Not like it was when I first started to use it. Also, I am using a moisturizer in the morning to combat the dryness. I think it'll work!
ALSO, I have a new face wash that I would like to introduce — The Face Shop Rice Water Bright Set. I use it as my makeup remover. 🙂
Day 31: After using BP last night, my skin in the AM looked pretty good. I'm going to continue on with BP + Tret. This seems to be the best combination for my skin. Tret is making my skin so oily that it may be clogging my pores(???). I'm so petrified of this pore-clogging ingredient in the Tret cream. I'll stick to it for the next 2 months. If it doesn't change, I'll have to convert.
P.S. Applying BP while on Tret has been a pain (literally). haha. It really does burn. Ahhhh!! 🙀
Day 32: I stopped using Tret and BP at night. It's time to give my skin a rest. My skin feels dry, and it's cracking. My skin went from 98% to almost 100% clear. By night, all of the dead skin from my face started to peel! Wow, my skin just needed a break from the 'active' skin care products to naturally peel again. And that's what happened. Now I have a few tiny pimples to deal with. It's from the skin shedding off of my face, lol. I'm very happy that I'm back to peeling. 🙂
So it looks like I don't have to use my acne creams every day. Use it on some days, rest on other days.
Day 33: I'm going to continue the rest of this week moisturizing my skin. My skin is looking good. The pimples from yesterday vanished this morning. I can feel dead skin coming off of my face this morning too. Yes!! It's good to give the skin a break. I'm seeing positive results!!! 🙂
Day 34: I was going to continue to moisturize until this week is over. But, my skin changed drastically overnight. I'm going to start using Tret and BP again. I will include days where I only mositurize the skin too. Wow, my skin looks sooo good! All I had to do was give my skin a break from acne creams. All of the dead skin peeled off and revealed smooth, clear skin underneath!! Now I know what my skin likes! 👍
Day 35: I can officially say that I am 100% clear! WOW! The texture of my skin has softened and improved dramatically! It's all thanks to the combination of Tret + BP + AHA + jojoba oil. Since I don't have any active acne, I am going to concentrate on improving my skin texture even more and diminish fine lines + wrinkles. I don't have much acne scars to deal with. Thankfully. =) Applying makeup has been very easy. A thin layer is all I need! Or, NO MAKEUP!! 😊😊
Thank you for reading. ♥
My Tretinoin Experience:
Beginning My Tretinoin Journey 🙂
My Tretinoin Journey: 1 Week Results!!
My Tretinoin Journey: 2 Weeks In!
My Tretinoin Journey: 3 Weeks Results
My Tretinoin Journey: 1 Month Results!
Categories:
Tags:

Acne, Acne Prone, Acne Skin, Acne Skin Care, Acne Skin Care Routine, Clear Skin, Experience, Life, Lifestyle, Oily Skin, Results, Retin A, Review, Skin Care Routine, Thoughts, Tret, Tretinoin, Tretinoin Journey, Tretinoin Log
Jun. 29, 2020
Leave a comment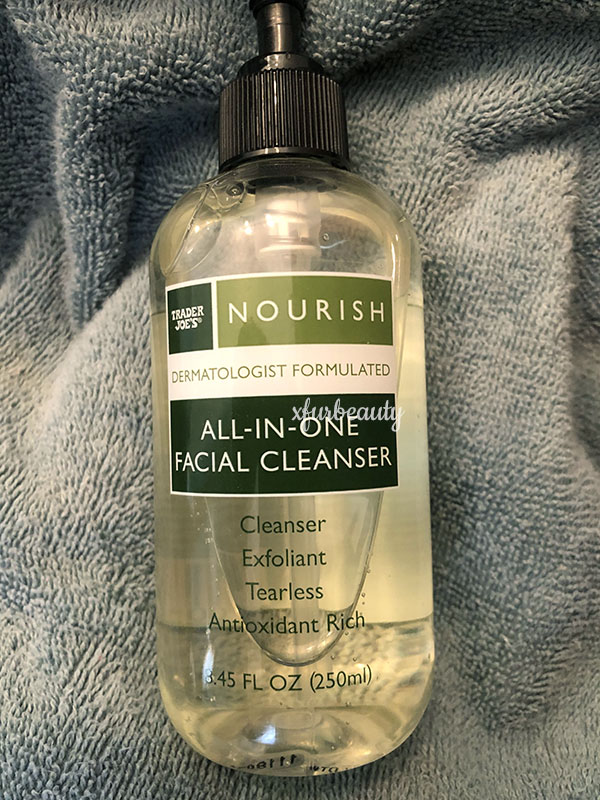 1 month results… 🙂
Day 22: Alright! After this week, I'm a month in. My face is so red. I'm not even joking. It itches so much! So I stopped using AHA in the morning. I decided not to use it anymore due to the dryng effect. lol. Oops. Lesson learned. Tret and BP dries out the skin so much already. I don't want my skin to become even more irritated. I'm not enjoying this at all. In the morning, I will simply moisturize my skin. At night, alternate between BP and Tret. I will be using Tret more often than BP. If I feel that my skin is getting more oily, I'll use BP. Other than that, I'll keep using Tret. Also, if my skin gets very dry, I'll use a mosturizer in place of Tret or BP. Well, I hope this itchiness and dryness goes away soon. Bleh. I hope to see true results soon. I only have 2 zits. One cyst and a whitehead. It's just that my skin is so freaking dry and itchy. Moving on to the next day…
P.S. I switched over to a more gentle face wash (pictured) — Trader Joe's Nourish All-in-One Facial Cleanser
Day 23: It looks like I have to restore the moisture in my skin. My skin barrier is very dry. I can see flakes coming off and peeling. It's just so dry that it's not coming off properly. This morning, I moisturized, moisturized, and moisturized some more. No chemical exfoliants anymore. This dry skin is making my skin look aged, haha. 😭😭😭 Moisturizing helped A TON. By night, the dead skin came off. That one cyst exploded, LOL!! I have another cyst on my chin. Ugh! It's freaking painful. The whitehead died out. I think my skin is moving in the right direction again once I added more moisture to my skin. It seems like I have to treat my skin as if I have dry skin instead of oily skin. Hmmm, interesting. All I know is that my skin feels baby soft and looks good! What a huge difference compared to yesterday! 😁
Day 24: Skin looks really good today!! A few new tiny pimples after the dead skin came off yesterday (and this morning!!!). I am shedding! 🙂 🙂 🙂 Cysts came to a head. I extracted them. I'm speaking about this casually because I have experience with them. haha. I'm going to continue to keep my skin extra hydrated. Once again, no chemical exfoliants. It's going to be all about moisturizing in the morning. BP and Tret (on most days) at night. 🙂
Keeping the skin moisturized seems to be the key to making this work! I'm so happy that my skin is improving!! 🙌
Day 25: Still dealing with dry skin that's itchy. Fortunately, it's not as itchy as before. It has toned down a bit. Cysts are clearing up. No new breakouts, but I've experienced some hard comedones. =/
Day 26: I've introduced some new moisturizing skin care products into my skin care routine. They are…
Wow, by the end of the day, all of the dead skin cells that were hanging from my face came off easily. I used my finger tips to remove them in the shower. OMG, my face feels so clean and smooth. It's improving!! Keeping the skin moisturized throughout the day is working for me! Unbelievable! I haven't used BP at all this week. I don't intend to anymore unless my skin really needs it. Tret is doing the job!! YAY!!!! So close to finishing one month of Tret. I'm happy to be moving in the right direction again! Cheers!! 🙂
Day 27: Another good day where new skin has been revealed. A few tiny breakouts. Nothing major. My skin is looking good! The texture…it's sooo smooth. Tret is showing results after keeping my skin hydrated during the day. I'm still not using AHA in the morning. I'm going to stick to this routine because it's working. Tret is irritating enough. I don't want to deal with nasty itchy, dry skin…
Day 28: It's the last day of the first month on Tret. My skin has improved. What I learned is that moisturizing the skin is very imporant when you're on this cream. Even though the cream doesn't feel irritating when applied, that doesnt mean irritation is not occuring. Jojoba oil is what saved my skin from the extreme dryness and itchiness. I really hope I don't get a breakout from it. So far, it has been treating my skin well. No breakouts (yet). *crosses fingers*
Let's move on to the next week! 😁😁
My Tretinoin Experience:
Beginning My Tretinoin Journey 🙂
My Tretinoin Journey: 1 Week Results!!
My Tretinoin Journey: 2 Weeks In!
My Tretinoin Journey: 3 Weeks Results
Categories:
Tags:

1 Month, Acne, Acne Prone, Acne Skin, Acne Skin Care, Acne Skin Care Routine, Clear Skin, Experience, Life, Lifestyle, Oily Skin, Results, Retin A, Review, Skin Care Routine, Thoughts, Tret, Tretinoin, Tretinoin Journey, Tretinoin Log