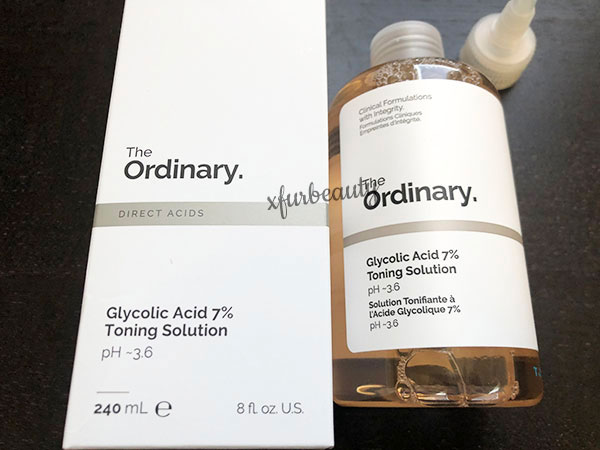 It's been 2 weeks using The Ordinary Glycolic Acid 7% Toning Solution! This week, I used glycolic acid products and benzoyl peroxide (more on this in a bit!). So, I started off the week using only glycolic acid products. Just this toner and another glycolic acid serum (read more about it by going to that link!). Glycolic acid has helped improve my skin. But, I can tell that it's not going to clear up my skin fully. While using glycolic acid, I noticed smoother, brighter skin, and some closed comedones moving up to the surface, but it's not getting to the source. It's not going to be the miracle cure for my acne. I stopped using it every day. Now I'm only using it only a few times a week for exfoliation. Hopefully it'll help with acne marks with continued use. It's a nice product to have in my routine. I haven't had any issues using it. No redness, itchiness, or burning. The stinging sensation has diminished over time too. My skin is getting used to it real fast. Now on to my experience with benzoyl peroxide…
I decided to use benzoyl peroxide last minute (at the end of the week). It's because I didn't see much results with glycolic acid acne-wise. I know it's only been 2 weeks, but that's more than enough time for me to see if it works for my acne or not. I just don't think it's working. I noticed inflamed acne popping up, and it looks like it's going to get worse if I didn't do anything about it. Glycolic acid alone just isn't going to cut it. At least for the products I was using. I'm using benzoyl peroxide now. I didn't expect to use it again, but here I am, using it again, haha. Let's see if it works this time around. It has worked plenty of times before. I just ended up venturing out to other ingredients/products to help with my acne. I guess, to no avail. Here's my experience using benzoyl peroxide for the first time again.
So before applying benzoyl peroxide to my skin, I applied my moisturizer (La Roche Posay Toleriane Double Repair Matte Face Moisturizer for Oily Skin) first. I might re-add Cosrx Advanced Snail 96 Mucin Power Essence to increase moisture in my skin. I removed it because I didn't need it anymore. But, more moisture right now wouldn't be a bad thing while using benzoyl peroxide. Moisturizing the skin helps to prevent skin dryness and any other skin irritations. After applying moisturizer, I applied benzoyl peroxide all over my face! I'm not using it as a spot treatment. Just not yet until my skin is clear. The results the next morning was pretty amazing. I noticed a decrease in sebum, clearer skin, less closed comedones, and my overall complexion just looked less inflamed. I had some inflamed pimples the night before. They have diminished in redness and in size. I also notice some clogged pores making an appearance. That didn't bother me much. I'm trying to unclog my pores for a smoother feel anyways. My skin has been super clogged for a long time. I can feel this gross bumpy texture to my skin when I move my fingers over my skin. It doesn't look bad visually, but I can feel it when I wash my face. That's been bothering me a lot. Hopefully benzoyl peroxide works this time.
Here's my current skin care routine + benzoyl peroxide added last minute. Stay tuned for my results next week. I'm constantly changing up my skin care routine and trying to figure out what works.
Products I'm Experimenting With…
Alpha Skin Care Intensive Renewal Serum:
I really like this glycolic acid serum. It's a higher percentage (14%) and leaves my skin feeling soft, smooth, and exfoliated. My skin is tolerating it pretty well. When applied to the skin, it stings a little bit. That stinging sensation eventually disappears. I tried using it every day and didn't have any issues using it every day. But, I don't think it's necessary to exfoliate the skin that much. I'm only using this serum once or twice a week whenever I feel like it. The higher percentage of glycolic acid has helped blemishes move up to the surface even faster than the glycolic acid toner. My skin looks brighter and so much smoother. I'm really liking what I'm seeing so far. Hopefully it'll continue to make a difference in my skin.
Canmake Mermaid Skin Gel UV SPF 50+ PA++++ Clear:
I tried the Canmake Mermaid Skin Gel UV SPF 50+ PA++++ Clear this week. It was a last minute kind of thing. I haven't let this product touch my face in ages. I still have a few bottles left, so I thought I would give it another try, lol. Hopefully it doesn't clog my pores like last time. My skin care routine is pretty minimal right now so I'll know if it's breaking me out or not. The sunscreen felt really nice when applied to the skin. It's lightweight, gel-like. It absorbs easily into the skin and leaves the skin feeling and looking matte. I didn't experience a sheen on my skin like I used to. The sunscreen does soak up oils on the skin. I used a moisturizer before applying this sunscreen. From my past experience with this sunscreen, it doesn't protect my skin well. I noticed some skin darkening when I used it. But, I'm not going to use it alone. I'll use my usual, daily sunscreen on top. This is a good way to use up a sunscreen that I won't purchase again. I kind of miss the gel texture. It feels amazing on my oily skin.
I stopped using this sunscreen, but I started using it again. Since my routine is shorter, why not give it another chance? Also, I finished my first bottle of this sunscreen this week! It took forever! So this sunscreen is still moisturizing and leaves the skin looking greasy on the surface of the skin. It burns the eyes if any gets in there. I really do love how protective this sunscreen is. It has a high SPF and high UVA. I hope it doesn't clog my pores, but we'll see as I continue to use it. I bought quite a few. I don't want to waste them.
If you missed out on my updates…
Update: The Ordinary Lactic Acid 10% + HA & La Roche-Posay Anthelios Body & Face Mineral Sunscreen Gentle Lotion SPF 50
My Experience After 1 Week Using The Ordinary Glycolic Acid 7% Toning Solution + Other Skin Care Updates
Categories:
Tags:

2 Weeks, 2 Weeks Results, 2 Weeks Update, 7% Glycolic Acid, Acne, Acne Marks, Acne Prone Skin, Acne Scars, Acne Skin, AHA, AHA Serum, Alpha Skin Care, Alpha Skin Care Intensive Renewal Serum, Altruist, Altruist Sunscreen SPF 50, Anti-Aging, Beauty, Benzoyl Peroxide, Brighter Skin, Canmake, Canmake Mermaid Skin Gel, Canmake Mermaid Skin Gel UV SPF 50+ PA++++ Clear, Canmake Sunscreen, Exfoliating, Experience, Glycolic Acid, Glycolic Acid Serum, Lifestyle, Post Inflammatory Hyperpigmentation, Results, Review, Skin Care, Skin Care Routine, Skincare, SPF 50, SPF 50+, Sun Care, Sun Protection, The Ordinary, The Ordinary Glycolic Acid 7% Toning Solution, The Ordinary Lactic Acid 10% + HA, Thoughts, Toning Solution, UV Gel, Wrinkles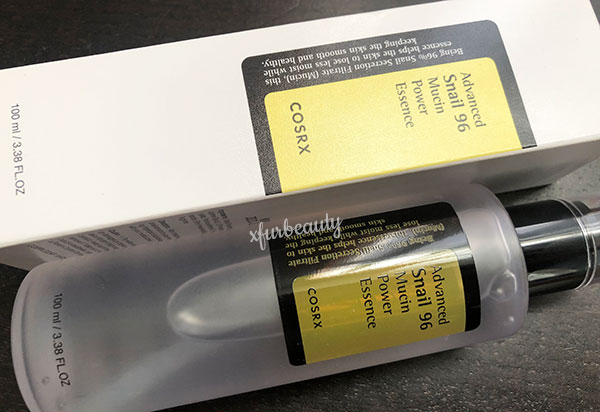 Here are my 5th week results! 🙌🏻
At the beginning of the week, I started off with what I was doing before, which is using tret and lactic acid every other day. Turns out that was way too much for my skin. I couldn't handle the dryness and peeling skin any longer. My skin looked terrible with sunscreen on. It would cling to every dry patch and flaky skin at every corner of my face. It just didn't look good, and it was impossible for me to go through the day like that. I just can't. I have to see and talk to people. lol. By the end of the week, I stopped using tret and lactic acid on my skin. I took a break. No exfoliants. Nothing. Just moisturizing my skin. My skin improved for once this week! It was peeling, looking softer and smoother, and just overall brighter! So yeah, there's such a thing as over-exfoliating. 😬
Also, I ended up dropping some more skin care products from my routine. And guess what? My skin looked so much better without them. I think I may have been doing way too much. I wasn't seeing results using a bunch of products either. Just a waste of time and money. My skin care routine has dialed down a ton, but I'm really liking it. It allows me to focus on letting my skin heal in its natural state (as much as possible) instead of having blobs of products on my face. I've also been trying to reapply sunscreen more often too. I did some updated reviews on Cetaphil mineral sunscreen products this week, don't forget to check them out!
What I'm Using Right Now…
The sunscreen I'm still using is Canmake Mermaid Skin Gel UV SPF 50+ PA++++ Clear. I also have it in White. The White version is horrid. Don't buy it. It doesn't blend well into the skin and leaves a very noticeable white cast on the skin. I guess some people might like that type of look. I didn't. I thought it was atrocious. It just looked terrible on my skin. Like white face paint. lol. The texture and consistency of the sunscreen is just like the Clear, but it just leaves an obvious white cast behind, doesn't blend into the skin well, and dries out the skin a lot more. I'm currently looking for a better sunscreen. I like Canmake, but it dries my skin out when I reapply. I do wear moisturizer underneath and my skin still dries out after applying and reapplying the sunscreen. It gives the skin a dewy look but also feels like plastic silicone on the skin. Well, on my skin it does, lol. Also, I want a sunscreen that is water-resistant. It's summer and sunscreen comes off much more easily during this time of the year. Canmake isn't water-resistant.
So I'm not sure what I'm going to do with this sunscreen. Maybe I'll keep using it. All I know is that it's the only sunscreen that I have that doesn't break me out. It might work better on days when it's less sunny and when I'm not outdoors often. Because when using this sunscreen, I noticed that my face became a little tanner than usual. Hmmmmm. 🤔 I'll be on the search for another sunscreen in the meantime.
So what products did I remove from my skin care routine??
Cosrx Advanced Snail 96 Mucin Power Essence:
It took me a while to see if I wanted to remove this product or not. Looking back, I used it for a few years, I think it's been about 2-3 years already. Honestly, it hasn't helped much with hydration. It hasn't helped with fine lines and wrinkles either. I don't think it really did anything significant. Absolutely nothing. So! I decided to stop using this product. I didn't see the point anymore.
The Ordinary Amino Acids + B5:
Here's to another serum that I saw ZERO results from. It's not even hydrating. I don't even know why I'm using it anymore. It's pretty much a waste of time using it. It didn't break me out or irritate my skin. It just felt like I was applying expensive water to my skin.
Benton Snail Bee High Content Essence:
I had a chance to try this essence again. It felt very lightweight and soothing on the skin. I didn't use it long enough to see the full benefits of this product (if there's any). I used it, stopped using it. I didn't notice any breakouts this time. I didn't think this essence was super moisturizing. It's somewhat drying on the skin. I think I'm over it. Apparently I still have it, lol. That's why I tried it again.
RoC Retinol Correxion Deep Wrinkle Night Cream:
I started using this cream last week but decided to stop using it. I know, it's way too soon. But, this is another product that I don't need. What's the point in using it when I have other exfoliants and retinol/retinoid products? Also, I think it's too moisturizing on my skin as well. I didn't think it was working for me. FYI, I've used this product before in the past. I guess I stopped using it for a reason.
RoC Line Smoothing Daily Cleansing Pads:
I loved these cleansing pads, and they do work to cleanse the skin. I've been using them whenever my skin starts to peel. I think this is a good product, but it's another product that I don't necessarily need in my life. And I don't feel like wasting my money on it anymore. I feel like the dead skin cells on my face comes off naturally as I continue to moisturize my skin and let it heal. I'm not into cleansing pads or even scrubs right now. It's not my thing at the current moment, so I decided not to buy it again when I'm done with it.
That's all I changed and have done this week. I spent the week mostly re-evaluating my sun care products and how I'm applying them (how often too). I've been eliminating skin care products from left to right too. My skin is still adjusting to tret after 5 weeks. In all honesty, I feel like this acne journey shifted from using tret to lactic acid. The results I'm getting from lactic acid have been amazzziiinnnnnnnnnnnnnnng! ✨
My Acne Experience:
My Acne Journey: 3 Weeks Results!
My Acne Journey: 4 Weeks Results!
Categories:
Tags:

Acne, Acne Prone Skin, Acne Serums, Acne Skin, AHA, AHA Serum, Alpha Hydroxy Acid, Anti-Aging, Beauty, Exfoliant, Experience, Glycolic Acid, Lactic Acid, Lactic Acid Serum, Results, Skin Care, Skincare, Summer, Sun Care, Sun Protection, Sunscreen, Tret, Week 5, Week 5 Experience, Week 5 Results, Wrinkles