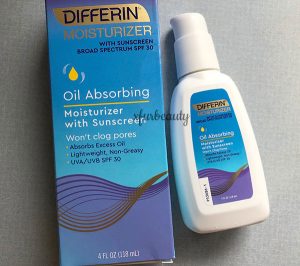 When I first picked up Differin Oil Absorbing Moisturizer SPF 30, I was searching for a sunscreen that would work on my oily, acne-prone skin. This sunscreen was specifically made for acne-prone skin, so I thought it would be a good sunscreen for my skin type. This sunscreen, as it states on the packaging, provides broad spectrum SPF 30 UVA/UVB protection, hydrates the skin, helps soothe the skin from acne treatments, and leaves the skin matte. Also, it's lightweight, won't clog pores (hmmm!), non-greasy, hypoallergenic, and fragrance-free. I've used this sunscreen on and off for so many years. I think I'm overdue for a review on it. Here are my thoughts on Differin Oil Absorbing Moisturizer SPF 30!
My experience
Differin Oil Absorbing Moisturizer SPF 30 comes in a 4 fl. oz. pump bottle. The product comes out runny but not too runny. It feels like a facial lotion. Not like a typical sunscreen lotion. Even though it doesn't feel like a sunscreen lotion, it smells like one. It smells like a bunch of sunscreen filters and other chemicals. The smell is terrible. Yes, the product is fragrance-free (as it says it is), but the smell of the product is very strong and bothers me a lot. And I rarely get bothered by the smell of products unless it's very strong and offensive. This sunscreen was just too much for my nose to handle and eyes (more on this soon). So applying the sunscreen to the skin was very simple. It feels lightweight (like a thin lotion), glides on the skin easily, and blends into the skin well. It absorbs into the skin nicely without leaving any sticky residue behind. Moisturizes the skin. It's not heavy on the skin either. Works well under makeup too. It doesn't pill. With this sunscreen, I can use a generous amount of product, since it comes in a 4. fl. oz. bottle. Reapplication isn't a problem. It's a very affordable sunscreen and works well with other skin care products.
With the good, there has to be something bad about a product. Well, sometimes. In this case, yes, there is. So I love how this sunscreen contains broad spectrum SPF 30 UVA/UVB (Avobenzone 3%, Octisalate 5%, Octocrylene 7%) for sun protection. It moisturizes the skin. Doesn't pill. It's very affordable compared to other facial sunscreens I've used. I don't think it has made me break out yet. I'm really not sure. I haven't noticed any breakouts from it so far anyways. But I stopped using it for a good reason. It's due to the strong chemical smell that I talked about earlier. The smell of this sunscreen is so strong that I can't use it on the skin around my eyes or near my eye area. The fumes seep into my eyes and burn. They get irritated, turn red and teary. It looks like this sunscreen is too much for my sensitive eyes also. I've attempted to use it so many times, but I always ended up with irritated, red eyes. That's not something I want in a sunscreen. It's also not something I want to happen on a daily basis or at any time. Who does??!!
The product claims to be oil-absorbing. It's not. ha! Well, not on my skin anyways. It made my skin more oily and greasy-looking. It didn't matter if it was summer or winter. Or if it was super hot and humid. My skin looked like an oily mess. There goes the oil-absorbing claim. I couldn't deal with the oiliness anymore. And of course, how it burned my eyes. Seems like another sunscreen that's too good to be true. The price was good for the amount of product. If it worked, that would've been awesome, but this sunscreen just isn't up there (for the facial skin). I can use it on my body at any time without any issues. But the skin on my body isn't that picky to begin with.
Here's a swatch of Differin Oil Absorbing Moisturizer SPF 30. Looks like any other lotion. I just wished it didn't burn my eyes or make my skin look more oily than it already is.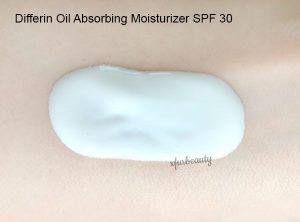 Pros & Cons
✅ Pros
Contains SPF 30 UVA/UVB broad spectrum (Avobenzone 3%, Octisalate 5%, Octocrylene 7%)
Moisturizing
Feels very nice on the skin due to the hydration it provides
Affordable. Comes in a 4 fl. oz. bottle!
❌ Cons
Makes the skin more oily
Burns the eyes
Smells like chemicals
Sunscreen fumes gets into the eyes, burns
Conclusion
This sunscreen would've worked if it didn't burn my eyes or make my skin appear more oily and greasy. I couldn't believe how oily my skin looked. I used oil-absorbing powders to tame the oilies too, but that didn't work. My skin still looked gross and greasy whenever I used this sunscreen. It's advertised as a sunscreen that's suitable for oily, acne-prone skin too. Since this sunscreen feels too oily on my oily skin and burns my eyes, I couldn't continue to use it on my skin. The smell and fumes coming from this product is too strong. It gave me headaches, and I couldn't put up with that during the day. It's not something anyone should have to put up with when using sunscreen. That just means it's a poor product. Overall, I didn't enjoy using this product. It could've been a good product, but it's not quite there yet. And I still can't believe I kept on trying to make it work. Believing that it may work one day. It's time to let it go. I can't recommend it. There are better sunscreens out there for oily skin. This isn't it.
Go here for more reviews on sunscreens
Categories:
Tags:

Acne Skin, Beauty, Differin, Differin Oil Absorbing Moisturizer SPF 30, Fragrance Free, Hypoallergenic, Moisturizer, Oily Skin, Review, Skin Care, SPF, SPF 30, Sunblock, Sunscreen, UVA, UVB
Even though Differin Gel didn't work on my skin, I decided to try out Differin Dark Spot Correcting Serum. As the name of the product states, it helps to fade dark spots.
Gradually fades discoloration, pigment, spots, and blotches
Helps reduce the appearance of post acne marks
Improves luminosity
The active ingredient in this serum is hydroquinone. It's a 'skin bleaching agent'. When people see, skin bleaching agent, it scares the living %!#& out of them. Also, the fact that hydroquinone is a very controversial ingredient. That's a whole 'nother topic though! As for 'bleaching', don't worry about it, it's not going to bleach the skin. From my own personal experience, it has never bleached my skin. Honestly, it's the least effective 'brightening' skin care ingredient for me. That is why I choose not to use it until now. On my skin, hydroquinone doesn't yield better results compared to good 'ol Vitamin C. Keep in mind that this is just from my own personal experience. For someone else, it may differ. And I do prefer Vitamin C over hydroquinone on any given day. So why did I purchase Differin Spot Correcting Serum? I like to try out new products, lol. It would be cool if this serum actually gave me amazing results. The only way to find out is to try it out.
My 1 Week experience with Differin Dark Spot Correcting Serum:
I've used the serum for 1 week already. The serum comes out gel-like and clear. It's not runny. It absorbs into the skin very well. I thought it would be heavier for some reason, but it's not. It's not sticky at all. It does have a chemical smell to it. It's either you hate it or can tolerate it. I'm pretty neutral about it. After a week of using it, I haven't seen any results yet. I'm hoping I will see results with continued use. There was no skin irritation or redness from using it. It didn't break me out either. YES!! So I can keep this serum in my skin care routine. I can't wait to see results if there's any in the upcoming weeks! I'll make an update after a month or when I'm done with the whole bottle. Stay tune for my updated review!